Conference Archives:
GENERAL INFORMATION
The Fast-Track Cities 2019 conference was sponsored by the International Association of Providers of AIDS Care (IAPAC) in partnership with the Joint United Nations Programme on HIV/AIDS (UNAIDS) and the Global Network of People living with HIV (GNP+).
More than 700 delegates from almost 220 cities and municipalities participated in three days of dialogue about best practices and lessons learned in accelerating urban HIV, tuberculosis, and HCV responses.
Following are conference presentations, including oral abstracts. The conference organizers request that any use of a presentation should include citation to both the presenting author and relevant conference information (e.g., Fast-Track Cities 2019, September 9-11, 2019, London).
Click here to download the Fast-Track Cities 2019 Conference Report.
DISCLOSURE
Fast-Track Cities 2019 was made possible by the following commercial and institutional supporters through grants and sponsorships.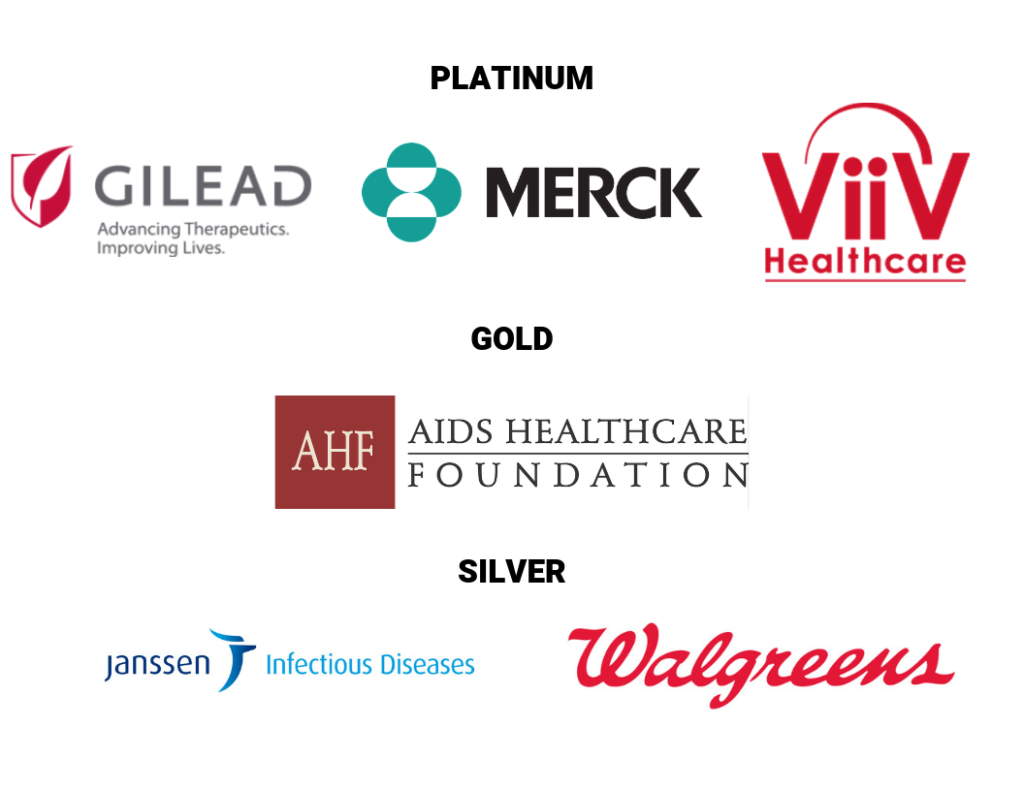 ---
Monday, September 9, 2019
OPENING SESSION
Panelists:
José M. Zuniga
Jane Anderson
Kevin Fenton
Rebecca Mbewe
Mayor Sadiq Khan
HIGH-LEVEL PANEL ON HEALTH INEQUALITIES
Moderator: Henry Bonsu           
Panelists:
Mayor Josefina G. Belmonte
Mayor Fernando Medina
Mayor Philippe Saurel
Amb. Deborah L. Birx
Mayor Svante Myrick
Maimunah Mohd Sharif
Gunilla Carlsson
Chairman Robb Pitts
José M. Zuniga
Mayor Kostas Bakoyannis
Deputy Mayor Simone Kukenheim
Trevor Stratton
Deputy Mayor Winston Ennis
First Deputy Mayor Mykola Povoroznyk
Mayor Gennadiy Trukhanov
Cary James
Suvanand Sahu
Marijke Wijnroks
LESSONS LEARNED ALONG THE CONTINUUM FROM 90-90-90 TO GETTING TO ZERO
Moderator: Shannon Hader
Achieving 95-98-97 in London: Lessons Learned but Miles to Go
Jane Anderson
100% of Diagnosed PLHIV on Antiretroviral Therapy: Nairobi County's Experience
Carol Ngunu
HIV Status Neutrality: New York City's Experiment for Closing 90-90-90 Gaps
Oni Blackstock
90-90-90 Trends and Modeling Implications for Getting to Zero in City and Municipal HIV Responses
Sindhu Ravishankar

---
Tuesday, September 10, 2019
ESTIMATING, MONITORING, AND EVALUATING 90-90-90 TARGETS PROGRESS
Moderator: Teymur Noori
City 90-90-90 Calculations: Kyiv
Olena Lukashevych
City 90-90-90 Calculations: San Francisco
Nikole Trainor
National and Subnational 90-90-90 Calculations: UK Cities
Valerie Delpech
National and Subnational 90-90-90 Calculations: Brazilian Cities
Ana Roberta Pascom
INNOVATIONS IN HIV TESTING AND LINKAGE TO AND ENGAGEMENT IN CARE
Moderator: Nitika Pai • Presentation
Estimating HIV Coverage in Paris to Shape an Adequate HIV Testing Policy
Eve Plenel
Community-Based HIV Testing: The Athens Checkpoint Experience
Sophocles Chanos
Key Population-Led Health Services to Optimize HIV Testing and Linkage to Care
Miguel Pedrola
CONCURRENT PLENARIES
Governance for Health
Moderator: Ian Green
Presenter: Ricardo Baptista Leite • Presentation
Social Accountability
Moderator: Nikos Dedes
Presenter: Deborah Gold • Presentation
Municipal Finance
Moderator: Vinay Saldanha
Presenter: Nomakhosi Gxagxisa
Institutional Development
Moderator: Maria Prins
Presenter: Robert Ndugwa • Presentation
LUNCH SYMPOSIUM
TOGETHER WE CAN: ADDRESSING GENDER DISPARITIES IN HIV AND EMPOWERING WOMEN
(Sponsored by Gilead Sciences)
Moderator: Elizabeth Bukusi
Panelists:
Amb. Deborah L. Birx
Gunilla Carlsson
Jane Anderson
Kim Simplis Barrow
Nicole Seguy
Silvia Petretti
OPTIMIZING HIV TREATMENT: DEMAND, INITIATION, TECHNOLOGIES, AND DELIVERY
Moderator: Peter Reiss 
Same-Day ART Initiation: Lessons Learned in and Outcomes from New Orleans
Jason Halperin 
What Long-Acting Antiretrovirals Portend for HIV Treatment in Relation to the 3rd 90
Chloe Orkin 
Differentiated Care to Expand Access to HIV and Supportive Services in Maputo City
Maira Marra
Community-Led HIV Treatment: Generating and Fulfilling Demand to Increase ART Coverage
Solange Baptiste
CONCURRENT PANELS
Looking Beyond 90-90- 90 to Support, Measure, and Model City-Level Impact
Moderator: Tim Martineau
Differentiated Care to Simplify HIV Services and Reduce Unnecessary Loss-to-Follow-Up
Mpande Mukumbwa- Mwenechanya
Ending the HIV Epidemic in the United States: A Case Study across Six US Cities
Bohdan Nosyk
Community-Based Participatory Research for Quality Assurance
Daniela Rojas Castro
Syndemic Conditions Associated with HIV and Intersectional Stigma
Moderator: Lucy Wanjiku Njenga
Mental Health as Facilitator and Barrier to Optimizing HIV Outcomes
Robert Remien
Neglected Health and Economic Impact of Sexually Transmitted Infections in the TasP/PrEP Era
David Harvey
Intimate Partner Violence and Relationship Power as Psychosocial Challenges to Reducing HIV Risk
Gloria Maimela
PrEP as an Adjunct to ART on the Road to U=U and Getting to Zero
Moderator: Praphan Phanuphak 
Synergies between PrEP and U=U
Sheena McCormack
From Clinical Trials to Clinical Impact: Scaling up PrEP in a Boston Community Health Center
Kenneth H. Mayer
How Do We Message Condom Use in the Age of PrEP?
Michael Mancinelli
Aligning Fast-Track Cities to Reach the TB 90-90-90 Targets
Moderator: Nick Herbert
Zero TB Cities and 90-90-90
Suvanand Sahu
Addressing TB within Context of the HIV Response in Mumbai
Padmaja Keskar
Zero TB Karachi: Targeting Multiple Diseases from a Single Disease Platform
Aamir Khan
Addressing TB within Context of the HIV Response in Eastern Europe and Central Asia
Michel Kazatchkine
ORAL ABSTRACT SESSION 1: Community Engagement
Moderator: Matthew Hodson
5864 – Contributing to Building Leadership Development Scenarios at the Service of HIV- and AIDS-Free Communities: A Matter of Social Responsibility
Filomena Frazão de Aguiar
15476 – Acceptability and Potential Effectiveness of Generación Actual, a Multi-Level HIV Community Mobilization Intervention with MSM and Transgender Women in Lima, Peru
Andres Maiorana
19517 – Trialing Ways to Evaluate the Role and Impact of Peer-Led Programs within a City's Evolving Response to HIV: Outcomes of the W3 Project
Graham Brown
21109 – Strengthening HIV Peer Outreach and Insuring Access of Key Population to HIV Services in Quezon City
John Kennedy Jardenil
25042 – Making U=U a Truth in the City: The Paris Example
Eve Plenel
ORAL ABSTRACT SESSION 2: Co-Morbidities
Moderator: Chris Duncombe
13243 – A Retrospective Review of Compliance with the Gene Xpert MTB/RIF Algorithm and Treatment Guidelines in a Primary Health Care Centre in Kwa-Zulu Natal, South Africa
Sarusha Pillay
15730 – Effectively Integrating Hepatitis C (HCV) Care into HIV Care in Urban HIV Clinics in South Texas, USA: Targeted Access to Community Knowledge, Linkage to Treatment and Education for HIV/HCV (TACKLE HIV/HCV) in People of Color
Barbara Taylor
17649 – Data to Care Model for Eliminating Hepatitis C among People Living with HIV, New York City, 2016-2019
Graham Harriman
20415 – Fall in HCV Incidence in HIV-Positive MSM in London following Expansion of Access to DAA Therapy
Lucy Garvey
20647 – The Amsterdam ABC: Amsterdam Action Plan Hepatitis B and C
Ellen Generaal
ORAL ABSTRACT SESSION 3: Data/Modeling
Moderator: Amanda Castel
16921 – A Method to Determine Viral Suppression among PLHIV for the HIV Care Continuum – Trends of Viral Suppression in the Fast-Track City of Berlin, Germany
Daniel Schmidt
17880 – Separate Impacts of PrEP and TasP on the Incidence of New HIV Diagnoses in US Fast-Track Cities, 2012-2017
Trevor Hawkins
18701 – Use of Data Visualization to Guide Targeting Resources for HIV Prevention and Care within Atlanta
Patrick Sullivan
19472 – Estimating Plausible Ranges on the Scale of Implementation for Evidence-Based HIV Interventions in the United States
Emanuel Krebs
22752 – Methodologies for Estimating the Number of People Living with HIV in 23 Fast-Track Cities
Sindhu Ravishankar
ORAL ABSTRACT SESSION 4: HIV Treatment
Moderator: Paula Munderi
16255 – Rapid ART Start in Newly/Previously Diagnosed HIV Treatment-Naïve Patients in the City of Phoenix: Ryan White and Private Clinic Outcomes in 2018
Thanes Vanig
19755 – Fast Track to 90-90-90 in Birmingham, Alabama: Evaluation of a New Rapid ART Initiation Program in the Deep South
Aadia Rana
20026 – Targeted Screening and Immediate Start of Treatment for Acute HIV Infection among Men Who have Sex with Men at a Sexual Health Clinic in Amsterdam, The Netherlands
Maartje Dijkstra
20598 – Marked Increase in Antiretroviral Therapy Initiation after Implementation of Universal Test and Treat in Durban, South Africa
Jienchi Dorward
22154 – Scaling-Up Immediate ART Initiation in Diverse Clinical Settings: The New York City Experience
Oni Blackstock
ORAL ABSTRACT SESSION 5: Testing
Moderator: Simon Ruth
9122 – LIGHT Initiative Phase 1: Integration of Opt-Out HIV Tests in Primary Care Glandular Fever Serology Ordersets – Simple, Effective, and Sustainable Increase in HIV Testing in Line with UK and European Guidelines
Desmond Hsu
18754 – Rationale, Design and First Results of an H-TEAM Intervention to Increase Provider-Initiated HIV Testing in Primary Care in Amsterdam, The Netherlands
Saskia Bogers
19363 – Dry Blood Spot-Based HIV Testing 'HIVcheck.jp' is a New Testing Opportunity for Men who have Sex with Men in Tokyo, Japan
Kota Iwahashi
21132 – HealthLink: Test Smarter, Link Faster
Khrystyna Brodych
21560 – Results and Experiences from the UK's Largest Free HIV Self-Testing Service
Will Howells
---
Wednesday, September 11, 2019
ACCELERATING COMBINATION HIV PREVENTION IN URBAN HIV RESPONSES
Responses Moderator: Christopher Duncombe
Actioning Global HIV Prevention Targets in Urban Settings
Jorge Garrido
PrEParing Women to Prevent HIV Acquisition: An Integrated Approach for PrEP Provision
Sophie Strachan 
Promoting Sexual Health to Increase HIV Prevention Services Utilization
H. Rodrigo Moheno
CONCURRENT PLENARIES
Civil Society Engagement
Moderator: Marcus Thompson
Presenter: Trevor Stratton (on behalf of Jacquelyne Alesi) • Presentation
Data for Action
Moderator: Jonathan Mermin
Presenter: Jeff Eaton
Health Equity
Moderator: Paula Munderi
Presenter: Robert Ndugwa • Presentation
"Right to the City"
Moderator: Anton Pozniak
Presenter: Marion Wadibia         
CONCURRENT PANELS
Eliminating Community and Health Systems Stigma and Discrimination
Moderator: Kat Smithson
U=U: Fueling the Wave of Change
Bruce Richman
Challenging Stigma around HIV and HCV in MSM Communities
George Ayala
Why Do Transgender Women Have the World's Highest HIV Rates?
Michelle Ross 
Understanding Barriers to Accessing HIV Services from the Sex Worker's Perspective
Lyle Muns
4th 90: Prioritizing Optimal Quality of Life for HIV- Affected Communities
Moderator: Garry Brough
Fast-Track Cities Quality of Life Survey: 15-City Perspectives
Imane Sidibé 
Positive Voices: Experiences and Healthcare Needs of PLHIV in the United Kingdom
Meaghan Kall
PozQual: Assessing PLHIV Quality of Life in Melbourne
Graham Brown
Addressing Social Determinants of Health as Drivers of HIV Outcomes
Moderator: Orla McQuillan
Why Do We Continue Losing Patients in the Modern ART Era?
Nombulelo Magula
Social Determinants of Health in Adolescent Girls and Young Women
Ebony Johnson
Housing Instability as Barrier to Urban AIDS Responses
Charles King
HIV and Aging: Responding to an Emerging Public Health and Social Challenge
Clive Blowes
Leveraging Urban HIV Platforms to Achieve Global HCV Elimination Targets in Cities
Moderator: John Ward • Presentation
Finding the Missing Millions
Jessica Hicks 
Accelerating the HCV Response in Vancouver through a City-Level Focus
Mark Hull
City-Based HCV Elimination Strategy for México City
David Kershenobich
LUNCH SYMPOSIUM
HIV AND CORPORATE SOCIAL RESPONSIBILITY: MULTISECTORAL PERSPECTIVES
(sponsored by IAPAC)
Moderator: Henry Bonsu
Panelists:
Sue Baines
Heidi McCormack
Stephen Rea
Lee Robson
Korab Zuka
ORAL ABSTRACT SESSION 6: Differentiated Services
Moderator: Anne Landry
17376 – Local Government Unit Community-Based HIV Screening Model
Darrel de los Santos
20042 – Decentralization of HIV Services in Kiev and Odessa
Oleksandra Denysenko
21144 – A People-Centered Approach to HIV Testing at AHF Ukraine
Anna Zakowicz
24039 – Impact of Pediatric One-Stop Service on Child Retention in Care and Treatment
Maira Marra
ORAL ABSTRACT SESSION 7: Innovation
Moderator: Antonella d'Arminio-Monforte
16901 – Ensuring Continuum of HIV Care through a Mobile-Based Referral Alert System: The iREFER Android/Apple Application of Quezon City, Philippines
Johnedel Mendoza
17432 – The WEFLASH© Program Assessing the Needs of Key Stakeholders of PrEP Follow-Up in France for Innovations in Connected Sexual Health
Jeremy Zeggah 
20101 – Prélib: Evaluating a Newly Launched Canadian Provider of Innovative Internet-Based Services for Self-Directed HIV and STI Screening
Maxim Regimbal-Ethier
20368 – The Use of Digital Vending Machines and HIV Self-Tests to Reach High-Risk Population
Gillian Dean 
21375 – Harnessing Digital Health Technologies to Increase Access to Antiretroviral Therapy in Kampala, Uganda: The ART ACCESS Application
Rosalind Parkes-Ratanshi
ORAL ABSTRACT SESSION 8: Policy/Finance
Moderator: Bertrand Audoin
18063 – Is Documentation of Research with HIV Interventions across Community, Facility, and Policy Levels Consistent and Aligned to Achieve the UNAIDS 90-90-90 Targets? A Systematic Review
Nitika Pai
20096 – Estimating Costs of Implementation, Delivery, and Sustainment for Evidence-Based HIV Interventions in the United States
Xiao Zang 
20105 – The Impact of Localized Implementation: Determining the Cost-Effectiveness of HIV Prevention and Care Interventions Delivered at Plausible Scale across Six US Cities
Emanuel Krebs
21190 – The HIV Response across Europe and Central Asia: A Focus on People Who Inject Drugs
Rosalie Hayes
23089 – Visualizing 90-90-90 and HIV Care Continuum Data to Influence Programmatic Interventions and Resource Allocation in Fast-Track Cities
Sindhu Ravishankar
ORAL ABSTRACT SESSION 9: PrEP
Moderator: Junko Tanuma
17343 – The Impact of Waiting for PrEP: Seroconversions, STIs, and Pressure on Clinics
Sally Jewsbury
19723 – PrEP-Related Stigma as Assessed by Late Disclosure of PrEP Use among Men who have Sex with Men
Marc van den Elshout
19917 – Does PrEP Usage Affect Risky Behavior? Preliminary Data from the Checkpoint in the Fast-Track City of Milan
Massimo Cernuschi 
20785 – Use of a Urine Adherence Test Coupled with Adherence Intervention to Increase PrEP Adherence
Giffin Daughtridge
ORAL ABSTRACT SESSION 10: Viral Suppression
Moderator: Thanes Vanig
17955 – Predictive Factors of Detectable Viral Load in HIV-Positive Patients: The PREDICTED-HIV Study
Rachel Therrien
19112 – HIV Care Coordination Improves Short-term Care Engagement and Viral Suppression among People Without any Evidence of HIV Medical Care for at Least 12 Months
McKaylee Robertson 
19241 – Effectiveness of Patient Adherence Groups as a Model of Care for Stable Patients on Antiretroviral in eThekwini
Siyabonga Nzimande
21065 – Effectiveness of Enhanced Adherence Counseling on Viral Load Suppression among People Living with HIV on Antiretroviral Treatment in Mumbai, India
Padmaja Keskar
22101 – Scaling Up Viral Suppression Support and Incentives for Vulnerable Populations: The Undetectables Program
Virginia Shubert
ADDRESSING CHALLENGES TO PROGRESS AND MOMENTUM ACROSS URBAN AIDS RESPONSES
Moderator: Dázon Dixon Diallo
Chemsex Increases High-Risk Sexual Behaviors in HIV-Positive Men who have Sex with Men
Ignacio Labayen de Inza 
Community and Self-Stigma Thwart HIV Testing, Prevention, and Treatment Uptake
Nathan Sparling 
Migration and HIV: The Achilles Heel of Efforts to Accelerate Urban AIDS Responses
Carlos van der Laat
HIV Criminalization as Human Rights and Legal Barriers in Urban Settings
Sean Strub
CLOSING PANEL – PROMISES TO KEEP AND MILES TO GO AS PARTNERS IN PROGRESS
Moderator: Kevin Fenton
Panelists:
Tom Coffey • Presentation
Bakita Kasadha
Fast-Track Cities 2019 Conference Program
Click the image below to download the complete 2019 Program in PDF format.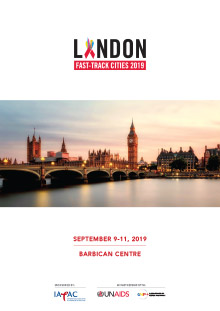 Requires free Acrobat Reader Plugin Software