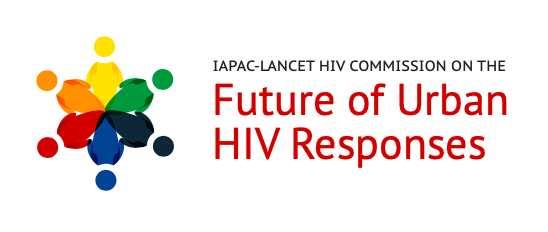 The IAPAC-Lancet HIV Commission seeks to document and summarize experiences and best practices in urban HIV responses, reflecting the diversity of the world's urban settings and their health successes and challenges in HIV prevention, care, and treatment. The Commission will also address co-morbidities and syndemic conditions associated with HIV. Additionally, the Commission will examine structural and other barriers to achieving Sustainable Development Goal (SDG) 3 and SDG 11 in urban settings. Moreover, the Commission will explore the threat to urban HIV responses posed by the COVID-19 pandemic.
The Commission is structured into seven thematic categories:
Realizing the Right to Health in Urban Settings
Building Health Systems Resiliency (Opportunities and Threats)
Mitigating the Effects of Syndemic Conditions and Co-Morbidities
Addressing Social Determinants of Health
Implementing Accountability and Data-Driven Stakeholder Partnerships
Re-Designing HIV Responses to be Equity-Based
Modeling the End of Urban HIV Epidemics
The Commission is comprised of representatives from constituencies that form the foundation of urban HIV responses in Fast-Track Cities: elected officials, public health officials, clinical and service providers, and community representatives. Commissioners will be advised by content experts and key opinion leaders in city government administration, health systems, health service delivery, health financing, epidemiology, modeling, human rights, social determinants, implementation science, behavioral and social sciences, and community engagement. Representatives from the three sponsoring institutions – The Lancet HIV, ViiV Healthcare, and the Fast-Track Cities Institute – have appointed ex officio Observers.
Commissioners
José M. Zuniga, PhD, MPH
Commission Chair
President/CEO, IAPAC
Washington, DC, USA
Winnie Byanyima
Honorary Commission Co-Chair
Executive Director, UNAIDS
Geneva, Switzerland
Shrikala Acharya, MD
Project Director, Mumbai District AIDS Control Society
Mumbai, India

Jane Anderson, MBBS, PhD
Centre for the Study of Sexual Health and HIV, Homerton University
London, UK
Geoffrey Barrow, MBBS, PhD, MSc
Department of Medicine, University of the West Indies
Kingston, Jamaica
Josip Begovac, MD, DPhil
Department of Infectious Disease, University of Zagreb
Zagreb, Croatia
Elizabeth Bukusi, MBChB, MD, MPH, PhD
Chief Researcher, Kenya Medical Research Institute
Nairobi, Kenya

Amanda Castel, MD, MPH
Professor, George Washington University
Washington, DC, USA
Erika Castellanos
Director of Programmes, Global Action for Trans Equality (GATE)
Amsterdam, The Netherlands

Jorge Cestou, PhD, MBA
Director of Program Operations
HIV/STI Bureau, Chicago Department of Health
Chicago, USA
Dázon Dixon Diallo, MPH, DHL
Founder and President, Sister Love
Atlanta, USA
Meg Doherty, MD, MPH, PhD
Coordinator of Treatment and Care in the Department of HIV/AIDS, WHO
Geneva, Switzerland
Ricardo Fuertes
Assessor of Education and Social Rights City Council, Education and Social Rights
Lisbon, Portugal
Anisha Gandhi, PhD, MPH
Acting Assistant Commissioner, Bureau of HIV, NYC Department of Health and Mental Hygiene
New York City, USA
Shannon Hader, MD, MPH
Deputy Executive Director, Programme, UNAIDS
Geneva, Switzerland
Cary James, MA
CEO, World Hepatitis Alliance
London, UK
Fran Lawless, MHA
Director of the Office of Health Policy and AIDS Funding, Mayor's Office of Health Policy
New Orleans, USA
Jeffrey Lazarus, PhD, MIH, MA
Associate Professor, University of Barcelona
Barcelona, Spain

Carlos Lobos, MS
President, Chile Positivo
Santiago, Chile
Alice Pedro Magaia de Abreau, MD, MPH
Councilor for Health and Social Affairs, Maputo City
Maputo, Mozambique
Nombulelo Magula, MBChB, MSc, PhD
Head, Department of Internal Medicine, KwaZulu-Natal University
eThekwini, South Africa
Kenneth Mayer, MD
Medical Research Director and Co-Chair, Fenway Institute
Boston, USA
H. Rodrigo Moheno
Secretary General and Co-Founder
Fundacion Mexico Vivo
Mexico City, Mexico
Mónica Morán-Arribas, MD, MPH
Coordinator of HIV Prevention Programme Ministry of Health, Madrid
Madrid, Spain
Daniel Nagel
CEO, ohhh! foundation
Berlin, Germany
Robert Ndugwa, PhD
UN-Habitat
Nairobi, Kenya
Carol Ngunu, MD, MSc
Deputy Director of Health Services, Nairobi City County Department of Health
Nairobi, Kenya
Nicoletta Policek, PhD
Chair, HIV Scotland
Glasgow, UK
Midnight Poonkasetwattana, MSc
Executive Director, APCOM
Bangkok, Thailand
Olga Rudneva
Executive Director
Elena Pinchuk ANTIAIDS Foundation
Kyiv, Ukraine
Jorge Saavedra, MD, MSc
Executive Director, AHF Global Public Health Institute
Miami, FL, USA

Lucy Wanjiku
Founder and Team Leader, Positive Young Women Voices
Nairobi, Kenya
Advisors
K. Rivet Amico, PhD
Associate Professor, Health Behavior & Health Education University of Michigan
Ann Arbor, USA
Stefan Baral, MD, MPH
Associate Professor in the Department of Epidemiology, Johns Hopkins
Baltimore, USA
Donna Futterman, MD
Director, Department of Pediatrics Adolescent AIDS Program, Albert Einstein College of Medicine
New York, USA
Eleanor Gouws, MSc, MPH, PhD
Senior Advisor, UNAIDS
Geneva, Switzerland
Quarraisha Abdool Karim, PhD
Associate Scientific Director, CAPRISA
eThekwini, South Africa
Salim Abdool Karim, MBChB, PhD
Director, CAPRISA
eThekwini, South Africa
James McIntyre, MBChB
Executive Director, Anova Health Institute
Johannesburg, South Africa
Greg Millett, MPH
amFAR
Washington, DC, USA
Saiqa Mullick, MBBCh, MSc, MPH, PhD
Director of Implementation Science, Wits Reproductive Health & HIV Institute
Johannesburg, South Africa
Brian Williams, PhD
Founder, SACEMA
Geneva, Switzerland
Observers
Matthew Halse, PhD
Director, Global Public Health
ViiV Healthcare
Peter Hayward, MSc
Editor, The Lancet HIV
Nanlesta Pilgrim, PhD, MPH
Director, Global Implementation Science
ViiV Healthcare