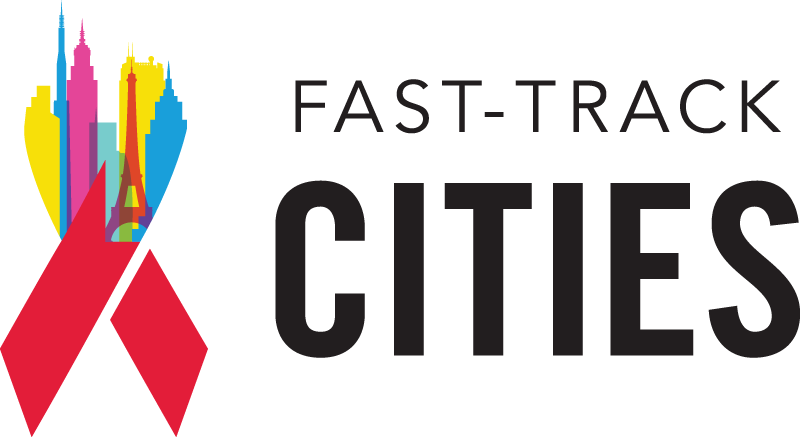 Launched on World AIDS Day 2014, the Fast-Track Cities network has grown to include more than 500 cities and municipalities that are committed to achieving Sustainable Development Goal (SDG) 3.3 – ending the epidemics of HIV and tuberculosis (TB) – and the World Health Organization (WHO) goal of eliminating HBV and HCV by 2030. Achieving zero HIV-, TB-, and hepatitis-related stigma is the Fast-Track Cities initiative's fourth, but no less important, goal.
The Fast-Track Cities initiative is supported by four core partners – the International Association of Providers of AIDS Care (IAPAC), the Joint United Nations Programme on HIV/AIDS (UNAIDS), the United Nations Human Settlements Programme (UN-Habitat), and the City of Paris. The Fast-Track Cities Institute also supports the network to achieve optimal health and resilience.
Mayors and other city/municipal officials designate their cities as Fast-Track Cities by signing the Paris Declaration on Fast-Track Cities Ending the HIV Epidemic, which outlines a set of commitments to achieve the initiative's objectives. Initially focused on the attainment of the UNAIDS HIV 90-90-90 targets, the Paris Declaration was updated to establish attainment of the these programmatic targets as the starting point on a trajectory towards getting to zero new HIV infections and zero AIDS-related deaths.
In line with the new UN Global AIDS Strategy (2021-2026), Fast-Track Cities are now committed to a more ambitious set of targets (95-95-95) with the addition of a fourth 95 target of 95% of at-risk individuals using combination HIV prevention. An adjunct to these targets is a call for zero stigma and discrimination. Achieving these targets places cities and municipalities on a trajectory towards zero new HIV infections, zero AIDS-related deaths, and zero stigma against those living with and affected by HIV. The updated fourth iteration of the Paris Declaration also prioritizes attaining the TB 90-(90)-90 targets, and eliminating HBV and HCV. Additionally, and since 2022, Fast-Track Cities are invited to sign the Sevilla Declaration on the Centrality of Affected Communities in HIV, Tuberculosis, and Viral Hepatitis Responses. The Sevilla Declaration includes 10 specific commitments Fast-Track Cities are requested to make to place affected communities at the center of urban HIV responses.
Click here to access the Paris Declaration 4.0 and the Sevilla Declaration.
Grounded in the principle of data transparency, the initiative includes a Fast-Track Cities Global Web Portal that houses Fast-Track City-specific dashboards through which cities and municipalities report on their progress against programmatic and other targets. The dashboards currently only visualize HIV target data, although planning is underway to include TB and viral hepatitis target data. Visit www.fast-trackcities.org to see the progress that Fast-Track Cities are making in accelerating their local HIV responses.
As the initiative's primary technical partner, IAPAC and its Fast-Track Cities Institute support Fast-Track Cities with: technical assistance to local health departments on data generation, monitoring, and reporting; implementation planning among key local stakeholders; capacity-building support for clinical and service providers, community-based organizations, and affected communities; eliminating stigma in healthcare settings; and assessing quality of life and quality of care among communities of people living with and affected by HIV, TB, and viral hepatitis.
Additionally, IAPAC and the Fast-Track Cities Institute launched three awards in 2021 to recognize individuals, community-based organizations, and cities and municipalities that have demonstrated the value of or supported urban public health leadership against HIV, TB, and viral hepatitis. Following are award recipients recognized at the Fast-Track Cities 2021 and Fast-Track Cities 2022 conferences.
2021
Circle of Excellence Awards
Bangkok Metropolitan Administration (Thailand)
City of London (United Kingdom)
Nairobi City County (Kenya)
City of San Francisco (United States)
Municipality of São Paulo (Brazil)
Community Leadership Award
Grupo de Ativistas em Tratamentos, GAT (Portugal)
Lifetime Achievement Award
Amb. Dr. Deborah L. Birx (United States)
2022
Circle of Excellence Awards
City of Amsterdam (Netherlands)
City of Johannesburg (South Africa)
City of Kingston (Jamaica)
New York City (United States)
Lagos State (Nigeria)
Quezon City (Philippines)
Community Leadership Award
100% Life (Ukraine)
Fast-Track Cities
(as of June 23, 2023)
Abidjan (Côte d'Ivoire)
Accra (Ghana)
Algiers (Algeria)
Atakpamé (Togo)
Bamako (Mali)
Bamenda (Cameroon)
Bangui (CAR)
Blantyre (Malawi)
Brazzaville (Congo)
Bulawayo (Zimbabwe)
Casablanca (Morocco)
Cotonou (Benin)
Dakar (Senegal)
Dar es Salaam (Tanzania)
Djibouti (Djibouti)
Douala (Cameroon)
Durban/eThekwini (South Africa)
Eldoret (Kenya)
Entebbe (Uganda)
Freetown (Sierra Leone)
Gaborone (Botswana)
Harare (Zimbabwe)
Johannesburg (South Africa)
Kampala (Uganda)
Kigali (Rwanda)
Kinshasa (DRC)
Kisumu (Kenya)
Lagos (Nigeria)
Libreville (Gabon)
Lilongwe (Malawi)
Lomé (Togo)
Luanda (Angola)
Lubumbashi (DRC)
Lusaka (Zambia)
Makeni (Sierra Leone)
Manzini (Eswatini)
Maputo (Mozambique)
Marrakech (Morocco)
Maseru (Lesotho)
Matola (Mozambique)
Mbabane (Eswatini)
Mbuji-Mayi (DRC)
Mombasa (Kenya)
Nairobi County (Kenya)
Nakuru (Kenya)
Ouagadougou (Burkina Faso)
Ouésso (Rep. of Congo)
Pretoria (South Africa)
Rabat (Morocco)
Windhoek (Namibia)
Xai-Xai District (Mozambique)
Yaoundé (Cameroon)
LATIN AMERICA / CARIBBEAN
Aracaju (Brazil)
Asunción (Paraguay)
Belém (Brazil)
Bogotá (Colombia)
Brasília (Brazil)
Buenos Aires (Argentina)
Campinas (Brazil)
Curitiba (Brazil)
Florianópolis (Brazil)
Fortaleza (Brazil)
Havana (Cuba)
Kingston (Jamaica)
Lima (Peru)
Manaus (Brazil)
Mexico City (Mexico)
Montevideo (Uruguay)
Panama City (Panama)
Port-au-Prince (Haiti)
Porto Alegre (Brazil)
Quito (Ecuador)
Rio de Janeiro (Brazil)
Salvador de Bahia (Brazil)
San Miguelito (Panama)
Santa Fe (Honduras)
Santiago (Chile)
São Paulo (Brazil)
Aberdeen (Scotland)
Alcorcón (Spain)
Almada (Portugal)
Almaty (Kazakhstan)
Amadora (Portugal)
Amsterdam (Netherlands)
Ancona (Italy)
Athens (Greece)
Bar (Montenegro)
Bari (Italy)
Barcelona (Spain)
Bergamo (Italy)
Berlin (Germany)
Bijeljina (Bosnia and Herzegovina)
Bijelo Pojle (Montenegro)
Bilbao (Spain)
Birmingham (UK)
Bochum (Germany)
Bordeaux (France)
Brescia (Italy)
Brighton and Hove (UK)
Bristol (UK)
Brussels (Belgium)
Bucharest (Romania)
Cardiff and Vale (UK)
Cascais (Portugal)
Chisinau (Moldova)
Copenhagen (Denmark)
Cork (Ireland)
Dnipro (Ukraine)
Dublin (Ireland)
Dundee (UK)
Edinburgh (UK)
Ekaterinburg (Russian Federation)
El Hierro (Spain)
Florence (Italy)
Galway (Ireland)
Geneva (Switzerland)
Genoa (Italy)
Glasgow (UK)
Kragugevac (Serbia)
Kryvyi Rih (Ukraine)
Kyiv (Ukraine)
Las Palmas de Gran Canaria (Spain)
Latina (Italy)
Lille (France)
Limerick (Ireland)
Lisbon (Portugal)
Liverpool (UK)
London (UK)
Loures (Portugal)
Luxembourg (Luxembourg)
Lyon (France)
Madeira Region (Portugal)
Madrid (Spain)
Manchester (UK)
Mariupol (Ukraine)
Marseille (France)
Milan (Italy)
Minsk (Belarus)
Modena (Italy)
Monaco (Monaco)
Montpellier (France)
Mostar (Bosnia and Herzegovina)
Murcia (Spain)
Nantes (France)
Nice (France)
Odessa (Ukraine)
Odivelas (Portugal)
Oeiras (Portugal)
Osh (Kyrgyzstan)
Palermo (Italy)
Paris (France)
Podgorica (Montenegro)
Portimão (Portugal)
Porto (Portugal)
Prague (Czech Republic)
Rotterdam (Netherlands)
Saint-Denis de la Réunion (France)
Samarkand (Uzbekistan)
San Sebastián-Donostia (Spain)
Sanremo (Italy)
Sarajevo (Bosnia and Herzegovina)
Seine-Saint-Denis (France)
Seville (Spain)
Sintra (Portugal)
Skopje (Macedonia)
Sombor (Serbia)
Strasbourg (France)
Svetlogorsk (Russian Federation)
Tbilisi (Georgia)
Torremolinos (Spain)
Turin (Italy)
Utrecht (Netherlands)
Valencia (Spain)
Vienna (Austria)
Vigo (Spain)
Vitoria-Gasteiz (Spain)
Warsaw (Poland)
Zaragoza (Spain)
Beirut (Lebanon)
Tel Aviv (Israel)
Adelaide (Australia)
Almaty (Kazakhstan)
Bangkok (Thailand)
Bishkek (Kyrgyzstan)
Brisbane (Australia)
Delhi (India)
Ho Chi Minh City (Vietnam)
Jakarta (Indonesia)
Karachi (Pakistan)
Manila (Philippines)
Melbourne (Australia)
Mumbai (India)
Perth (Australia)
Quezon City (Philippines)
Taipei
Atlanta-Fulton County, GA (USA)
Austin/Travis County, TX (USA)
Baltimore, MD (USA)
Baton Rouge, LA (USA)
Birmingham, AL (USA)
Boston, MA (USA)
Charleston Metro Area, SC (USA)
Chicago, IL (USA)
Cleveland/Cuyahoga County, OH (USA)
Columbia, SC (USA)
Dallas County/EMA, TX (USA)
Denver, CO (USA)
Durham, NC (USA)
Fort Lauderdale, FL (USA)
Houston-Harris County, TX (USA)
Las Vegas-Clark County, NV (USA)
Mexico City (Mexico)
Miami-Dade, FL (USA)
Minneapolis, MN (USA)
Montréal, QC (Canada)
Nashville (USA)
New Orleans, LA (USA)
New York City, NY (USA)
Oakland-Alameda County, CA (USA)
Phoenix, AZ (USA)
Pittsburgh, PA (USA)
Providence, RI (USA)
San Antonio-Bexar County, TX (USA)
San Francisco, CA (USA)
San Juan (Puerto Rico)
Springfield, MA (USA)
St. Louis, MO (USA)
Tampa, FL (USA)
Washington, DC (USA)
Click here to access an FAQ document outlining the commitments made by Fast-Track Cities and the benefits they derive from joining the Fast-Track Cities network.
IAPAC Fast-Track Cities Sponsors
(as of June 1, 2023)