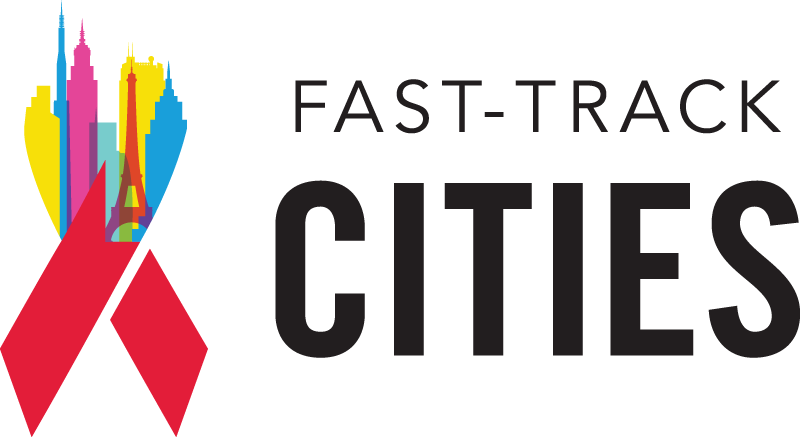 The Fast-Track Cities initiative is a global partnership between cities and municipalities around the world and four core partners – the International Association of Providers of AIDS Care (IAPAC), the Joint United Nations Programme on HIV/AIDS (UNAIDS), the United Nations Human Settlements Programme (UN-Habitat), and the City of Paris.
Launched on World AIDS Day 2014, the city today includes more than 250 cities and municipalities that are committed to attain the UNAIDS 90-90-90 targets by 2020: 90% of all people living with HIV will know their HIV status; 90% of all people with diagnosed HIV infection will receive sustained antiretroviral therapy (ART); and 90% of all HIV-diagnosed people receiving sustained ART will achieve viral suppression. Achieving zero stigma is the initiative's fourth, but no less important, target.
Mayors and other city/municipal officials designate their cities as Fast-Track Cities by signing the Paris Declaration on Fast-Track Cities, which outlines a set of commitments to achieve the initiatives objectives. Initially heavily focused on the 90-90-90 targets, the Paris Declaration was recently updated to establish attainment of the three 90 targets as the starting point on a trajectory towards getting to zero new HIV infections and zero AIDS-related deaths. Click here to access the Paris Declaration 2.0
Grounded in the principle of data transparency, the initiative includes a Fast-Track Cities Global Web Portal that allows cities to report on their progress against the fast-track and other targets. Visit www.fast-trackcities.org to see the progress that Fast-Track Cities are making in accelerating their local AIDS responses.
As the initiative's primary technical partner, IAPAC supports Fast-Track Cities with: technical assistance to local health departments on data generation, monitoring, and reporting; implementation planning among key local stakeholders; capacity-building support for clinical and service providers, community-based organizations, and affected communities; eliminating HIV-related stigma in healthcare settings; and assessing quality of life among communities of people living with HIV.
Fast-Track Cities
(as of June 20, 2018)
Abidjan (Côte d'Ivoire)
Accra (Ghana)
Algiers (Algeria)
Bamako (Mali)
Bangui (CAR)
Blantyre (Malawi)
Brazzaville (Congo)
Casablanca (Morocco)
Cotonou (Benin)
Dakar (Senegal)
Dar es Salaam (Tanzania)
Djibouti (Djibouti)
Douala (Cameroon)
Durban (South Africa)
Entebbe (Uganda)
Freetown (Sierra Leone)
Johannesburg (South Africa)
Kigali (Rwanda)
Kinshasa (DRC)
Lagos (Nigeria)
Libreville (Gabon)
Lilongwe (Malawi)
Lubumbashi (DRC)
Lusaka (Zambia)
Makeni (Sierra Leone)
Maputo (Mozambique)
Maseru (Lesotho)
Nairobi (Kenya)
Ouagadougou (Burkina Faso)
Ouesso (Rep. of Congo)
Pretoria (South Africa)
Windhoek (Namibia)
Yaoundé (Cameroon)
LATIN AMERICA / CARIBBEAN
Buenos Aires (Argentina)
Curitiba (Brazil)
Havana (Cuba)
Kingston (Jamaica)
Mexico City (Mexico)
Montevideo (Uruguay)
Panama City (Panama)
Port-au-Prince (Haiti)
Quito (Ecuador)
Rio de Janeiro (Brazil)
Salvador de Bahia (Brazil)
São Paulo (Brazil)
Santa Fe (Honduras)
Santiago (Chile)
San Miguelito (Panama)
Amsterdam (Netherlands)
Athens (Greece)
Barcelona (Spain)
Berlin (Germany)
Bordeaux (France)
Brighton and Hove (England)
Brussels (Belgium)
Bucharest (Romania)
Cascais (Portugal)
Ekaterinenburg (Russian Federation)
Geneva (Switzerland)
Glasgow (UK)
Kyiv (Ukraine)
Lisbon (Portugal)
Liverpool (UK)
London (UK)
Madrid (Spain)
Manchester (UK)
Milan (Italy)
Minsk (Belarus)
Monaco (Monaco)
Nice (France)
Odessa (Ukraine)
Paris (France)
Porto (Portugal)
Seville (Spain)
Tbilisi (Georgia)
Valencia (Spain)
Vienna (Austria)
Almaty (Kazakhstan)
Bangkok (Thailand)
Delhi (India)
Jakarta (Indonesia)
Manila (Philippines)
Melbourne (Australia)
Mumbai (India)
Quezon City (Philippines)
Taipei (Taiwan)
Atlanta (USA)
Austin (USA)
Baltimore (USA)
Baton Rouge (USA)
Birmingham (USA)
Boston (USA)
Chicago (USA)
Columbia (USA)
Denver (USA)
Mexico City (Mexico)
Miami (USA)
Minneapolis (USA)
Montréal (Canada)
New York City (USA)
New Orleans (USA)
Oakland (USA)
Phoenix (USA)
Providence (USA)
San Antonio (USA)
San Francisco (USA)
Washington, DC (USA)
Click here to access an FAQ document outlining the commitments made by Fast-Track Cities and the benefits they derive from joining the Fast-Track Cities network.
IAPAC Fast-Track Cities Sponsors
(as of July 1, 2018)