Conference Archives:
10th International Conference on HIV Treatment and Prevention Adherence
The 10th International Conference on HIV Treatment and Prevention Adherence was jointly provided by the International Association of Providers of AIDS Care (IAPAC) and the Postgraduate Institute for Medicine (PIM). The conference was co-chaired by K. Rivet Amico, PhD (University of Michigan, Ann Arbor, MI, USA) and Michael J. Mugavero, MD, MHSc (University of Alabama at Birmingham, Birmingham, AL, USA).
As the Co-Chairs indicated in their Welcome Letter to conference delegates:
"This conference marks a decade of coming together from around the world to share, support, and sustain scientific advances towards fully leveraging available behavioral and biomedical treatments to promote health and well-being of people affected by and those living with HIV."
The conference provided a forum where the state-of-the-science for HIV treatment and biomedical prevention adherence research was presented, discussed, and translated into evidence-based approaches. The conference also allowed healthcare and human service professionals to examine scientifically sound and practical strategies to enhance adherence to HIV treatment and biomedical prevention interventions in a variety of domestic and international settings.
Following are conference presentations. The conference organizers request that any use of these presentations should include citations to both their presenting authors and relevant conference information (e.g., 10th International Conference on HIV Treatment and Prevention Adherence, June 28-30, 2015, Miami).
DISCLOSURE
The conference was made possible through institutional support from IAPAC and the Humanitas Foundation; commercial support from AbbVie, Gilead Sciences, and Merck & Co.; and corporate sponsorship from ViiV Healthcare.
SUNDAY, June 28, 2015
PRE-CONFERENCE SYMPOSIA
PANEL – High-Impact Technology: Closing the Gaps in the Continuum of HIV Care
Moderator: Jane M. Simoni, PhD
Panelists: Heidi Crane, MD; Ann Kurth, PhD, CNM, MPH; Patrick Sullivan, PhD, DVM; Sean Young, PhD, MS
PANEL – Preview of the 2015 IAPAC Guidelines for the Optimization of the HIV Care Continuum
Moderator: Benjamin Young, MD, PhD
Presenter: Julio S.G. Montaner, MD
Panelists: Ann Kurth, PhD, CNM, MPH; Celso Ramos, MD, MSc; James D. Scott, MEd, PharmD; Anna Zakowicz, MA, MIH
CONFERENCE WELCOME AND AWARDS PRESENTATION
José M. Zuniga, PhD, MPH
K. Rivet Amico, PhD
Michael J. Mugavero, MD, MHSc
Click here to play the audio recording. (Right-click to download — MP3 file, ??MB)–>
GARY S. REITER, MD, AND ANDREW KAPLAN, MD, MEMORIAL LECTURE
Implementation Science: Identifying Real-World Strategies to Optimize the HIV Care Continuum

Quarraisha Abdool Karim, PhD
PANEL – Perspectives on the Cascade of Care: How Does it Resonate with Affected Communities?
Moderator: Phill Wilson
Panelists: Vanessa Johnson, JD; Kenly Sikwese; Anna Zakowicz, MA, MIH
MONDAY, June 29, 2015
KEYNOTE ADDRESS – Doing the Right Thing, in the Right Place, at the Right Time: Focusing HIV Efforts and Resources to End AIDS
Ambassador Deborah L. Birx, MD
PLENARY – Addressing the Role of Stigma, Discrimination, and Punitive Laws in Disrupting the HIV Care Continuum
Jason Sigurdson, MPA, LLB
THREE TOP-RATED ORAL ABSTRACTS
34 – Effect of Peer Mentoring to Improve Retention in HIV Care and HIV Viral Load in Hospitalized, Out-of-Care Patients

Thomas Giordano presenting
132 – Delivery of Antiretroviral Therapy Adherence Support Services by HIV Care Providers in the United States
John Weiser Presenting
174 – Evidence that PrEP can "Do More": Synergistic Effects on Primary Care, Insurance Status, and Mental Health

Sarit Golub presenting
THEMATIC ORAL ABSTRACT SESSIONS
SESSION 1 – Perspectives and Performance of Care Engagement
223 – The Impact of Care Coordination Services on HIV Care Outcomes among Formerly Incarcerated Individuals in Virginia

Anne Rhodes presenting
109 – Improved Care Engagement and Viral Load Suppression among HIV Care Coordination Clients with Poor Mental Health, Unstable Housing, and Substance Use at Baseline

Stephanie Chamberlin presenting
201 – Client Perspectives on the HRSA/SPNS Systems Linkage and Access to Care Initiative Interventions: "People are better off Having Services Like That Available"

Kimberly Koester presenting
170 – Project ACCEPT: Acceptability of a Behavioral Intervention to Promote Engagement in Care for Youth Newly Diagnosed With HIV

Diana Lemos presenting
SESSION 2 – Innovations in ART Adherence Measurement
42 – Experiences of Wisepill-Facilitated HIV Disclosure in Rural Southwestern Uganda

Emily Pisarski presenting
179 – Co-Calibration of Two Validated, Self-Reported Measures of ART Adherence in the CFAR Network of Integrated Clinical Systems (CNICS) Research Network and STTR Consortium

Heidi Crane presenting
210 – Feasibility and Acceptability of Hair-and Dried Blood Spot-Derived ARV Biomarkers as Objective Measures of Treatment Adherence in South Africa

Reuben Robbins presenting
241 – Utility of Dried Blood Spot-Derived ARV Biomarkers as an Objective Measure of Treatment Adherence in South Africa

Patricia Warne presenting
SESSION 3 – PrEP Dissemination and Implementation
184 – "Kiki with your Doctor?!?" Developing a Novel Social-Media Based Linkage-to- Care Intervention for Men Who Have Sex With Men (MSM) and Transgender (TG) Individuals in New York City

Viraj Patel presenting
41 – HIV Pre-Exposure Prophylaxis Capacity, Experience, Knowledge, Attitudes, and Barriers among a National Sample of US Primary Care Providers and HIV Providers

Andrew Petroll presenting
114 – Familiarity with and Preferences for Oral versus Long-Acting Injectable PrEP in a Nationally Representative US Sample of Gay and Bisexual Men

Jeffrey Parsons presenting
118 – All Science is Local: Engaging Communities to Enable Successful Implementation of Antiretroviral Prevention Strategies

Jessica Terlikowski presenting
SESSION 4 – Re-Engagement Interventions across Contexts
17 – Re-linkage and Retention in Care of HIV-Diagnosed Persons Presumed to be Out-of-Care Based on New York City HIV Surveillance Data

Chi-Chi Udeagu presenting
161 – Short-Term Navigation Can Lead to Successful Re-Engagement of Out-of-Care Patients with HIV: Results of San Francisco's LINCS Navigation Program

Erin Antunez presenting
30 – Out-of-Care PLHIV in St. Petersburg, Russia, Can be Located and Successfully Reached in the Community Through their Social Network Connections

Yuri Amirkhanian presenting
176 – Personal Outreach by a Trained Social Worker is an Effective Intervention to Re-Engage Patients with HIV in Care

Lauren Richey presenting
SESSION 5 – ART Adherence Potpourri

19 – Effectiveness and Cost-Effectiveness of the Adherence Improving Self- Management Strategy (AIMS) Delivered in HIV Care

Marijn de Bruin presenting
39 – Meanings of SMS Reminders for Adherence Support among Adults Initiating ART in Rural Southwestern Uganda

Norma Ware presenting
214 – Multi-Level Barriers to Antiretroviral Treatment (ART) Adherence among Hijra-/Thirunangai-Identified Trans Women in India: A Qualitative Investigation

Divya Ravi presenting
51 – Binge Drinking Decreases Weekend Adherence in an RCT from Low-/ Middle-Income Countries

Raquel de Boni presenting
SESSION 6 – Implementation Science in Biomedical HIV Prevention

183 – Diffusion 0f HIV Pre-Exposure Prophylaxis into Specialist and Primary Care: A Qualitative Study with Primary Care Providers

Douglas Krakower presenting
10 – Feasibility of Providing HIV Post- Exposure Prophylaxis Starter Kits in New York City Sexually Transmitted Disease Clinics

Emily Westheimer presenting
74 – Significant Uptake of Truvada for Pre-Exposure Prophylaxis Utilization in the US in 2014

Staci Bush presenting
189 – Impact of Option B on Mother-to-Child HIV Transmission in Rwanda: An Interrupted Time Series Analysis

Monique Abimpaye presenting
THEMATIC PANELS
Why Do Individuals Behave as They Do Across the HIV Care Continuum?

Moderator: Dianne M. Rausch, PhD
Panelists: Jason Farley, PhD, MPH, CRNP; Robert Remien, PhD; Jane M. Simoni, PhD
Community Efforts to Improve the HIV Care Continuum

Dazon Dixon Diallo, MPH
Policy, National Programs, and Structural Strategies to Ease Transitions between Pillars in the HIV Care Continuum

Moderator: Benjamin Young, MD, PhD
Panelists: José A. Bauermeister, MPH, PhD; Bich Dang, MD; Glen Pietrandoni, RPh
PANEL – Data to Care: Leveraging Public Health Partnerships Across the HIV Care Continuum
Moderator: Patrick Sullivan, PhD, DVM
Presenter: Eugene McCray, MD
Panelists: Julia Dumbrowski, MD, MPH; Jorge Saavedra, MD; Baligh Yehia, MD, MPP, MHSP
THEMATIC ORAL ABSTRACT SESSIONS
SESSION 7 – The "Big Picture" Epidemiological Approaches to the Care Continuum
259 – Diminishing "Clinic Viral Load" in a Nationally Distributed Cohort in the United States: What's Adherence Got to Do with It?

Jane Simoni presenting
216 – Feasibility of Using HIV Care Continuum Outcomes to Identify Geographic Areas for HIV Testing

Amanda Castel presenting
20 – Retention in HIV Care among a Commercially Insured Population, 2006-2012

Kathy Byrd presenting
68 – The Paradox of Retention

Daniel Feller presenting
SESSION 8 – Psychosocial and Cognitive Correlates of ART Adherence
206 – Association between Alcohol and Substance Use Severity and Antiretroviral Therapy (ART) Adherence over time in a Nationally Distributed Cohort of Patients in Care across the United States

Heidi Crane presenting
182 – Depressive Symptoms Mediate HIV-Related Physical Symptoms on Adherence to Antiretroviral Medications

Moka Yoo presenting
204 – The Impact of Disclosure on Adherence in HIV-Infected Adolescents in Botswana: A Longitudinal Study

Harriet Okatch presenting
116 – The Role of Neurocognitive Functioning in the Day-Level Association between Substance Use and Medication Adherence among HIV-Positive Gay and Bisexual Men

H. Jonathon Rendina presenting
SESSION 9 – Linkage and Retention: Global Perspectives

175 – Quantifying Variability in Missed Pharmacy Visits among HIV-Infected Patients after Initiation of Antiretroviral Therapy in Zambia

Nancy Czaicki presenting
57 – The MSM HIV Care Cascade in Rio de Janeiro, Brazil

Rodolfo Castro presenting
177 – Social Support through Observational Trial Participation among HIV Patients in Southwest Uganda

Bridget Burns presenting
199 – Age Matters: Inconsistent HIV Care among Adolescents and Young Adults in Nigeria

Aimalohi Ahonkhai presenting
TUESDAY, June 30, 2015
PLENARY – 90:90:90 – Reinforcing Adherence as a Touchstone to Achieving 90% Viral Suppression
Steve Morin, PhD
PLENARY – Closing Quality and Relevance Gaps: Harnessing Technology to Facilitate HIV Care Scale-Up
Reuben Granich, MD, MPH
THEMATIC ORAL ABSTRACT SESSIONS
SESSION 10 – Linkage and Retention: Domestic (US) Perspectives
26 – From Their Own Perspectives, Why Are Out-of-Care HIV-Infected African American MSM Out of Care?

Jeffrey Kelly presenting
8 – Clinical and Behavioral Characteristics in US HIV-infected Young Adults

Linda Beer presenting
21 – Most Accurate Data Sources for Obtaining Contact Information on Adults Diagnosed with HIV for Public Health Purposes

Stanley Wei presenting
1 – HIV Care Measured Over Multiple Time Periods Varies by Race and Ethnicity

Michael Horberg presenting
SESSION 11 – Facilitating ART Adherence: Individual, System, and Technology Interventions
193 – The Effect of Antidepressant Treatment on HIV and Depression Outcomes: Results from the SLAM DUNC Randomized Controlled Trial

Brian Pence presenting
205 – Antiretroviral Prescription Delivery for Persons Living with HIV/AIDS in Alabama: Do Mailed Medications with Enhanced Pharmacy Services affect Biologic Outcomes?

Will Rutland presenting
87 – SMS Interventions to Improve Antiretroviral Therapy Adherence: A Pilot Randomized Controlled Trial

Jessica Haberer presenting
171 – Engagement is Key to Effectiveness of Individualized Texting for Adherence Building (iTAB) Among HIV-Positive Methamphetamine Users

David Moore presenting
SESSION 12 – Large-Scale Programs to Enhance Individual and Public Health Outcomes

33 – Adherence to Pre-Exposure Prophylaxis (PrEP) among Gay and Bisexual Men: Prevalence and Predictors of Missed Doses

Thomas Whitfield presenting
188 – Low Adherence in Vaginal Microbicide Gel Trials? Opinions of Former Trial Participants on Improving Adherence

Lori Miller presenting
104 – Intentions to Initiate PrEP among Gay and Bisexual Men are Driven by Demographic Factors, Sexual Risk, and Perceptions of Providers: Results from a Nationally Representative Sample

H. Jonathon Rendina presenting
244 – "I Am Not a Man": Trans-Specific Barriers and Facilitators to PrEP Acceptability among Transgender Women

Jae Sevelius presenting
LATE-BREAKER ABSTRACTS
SESSION 1 – Multiple Layers and Dimensions of HIV Adherence

281 – Treatment to Improve Adherence and Depression among People Living with HIV in Zimbabwe

Melanie Abas presenting
287 – Difference in Self-Reported Adherence on Different Recall Intervals over Time Between Males and Females in MACH14 Study

Yan Wang presenting
276 – Predictors of Adherence in Youth with HIV Enrolled in a Prospective Longitudinal Follow-Up Study of a Randomized Advance Care Planning Intervention

Patricia Garvie presenting
289 – Multilevel Factors Contributing to Women's Entry, Engagement, and Adherence to HIV Treatment and Care

Marcia Holstad presenting
SESSION 2 – Large-Scale Programs to Enhance Individual and Public Health Outcomes
274 – Treatment Refusal in South Africa in an Era of Expanded Antiretroviral Therapy Availability – A Prospective Multi-Site Cohort Study

Ingrid Katz presenting
280 – The HIV Care Continuum for Housing Program Clients and Persons Living with HIV/AIDS Overall, New York City, 2013

Ellen Wiewel presenting
269 – Providing Technical Assistance to Health Departments on the use of HIV Surveillance Data to Improve Health and Prevention

Kathleen Green presenting
282 – Improvements in Retention in Care and Viral Suppression: Results from the First Year of the Medical Care Coordination Program in Los Angeles County

Wendy Garland presenting
INVITED SPEAKERS
Health Financing
Alan Whiteside, DEcon
Public Policy
Jeffrey Crowley, MPH
Legal Barriers
Catherine Hanssens, JD
PLENARY – Developing an "HIV Prevention Cascade": Current Approaches and Future Directions
K. Rivet Amico, PhD
PANEL – Biomedical HIV Prevention: Adherence Across Diverse Contexts and Cultures
Moderator: Jessica E. Haberer, MD, MS
Presenter: Kenneth Mayer, MD
Panelists: Robert Grant, MD, MPH; Sharon Hillier, PhD; Rafael Mazín, MD, MPH
RAPPORTEUR SESSION – Highlights from Adherence 2015
Michael J. Stirratt, PhD
CLOSING PANEL – A 10-Year Journey Toward a Sustainable System of HIV Prevention and Adherence
Moderators: K. Rivet Amico, PhD; Michael J. Mugavero, MD, MHSc
Panelists: Kenly Sikwese; Julio S.G. Montaner, MD; Anna Zakowicz, MA, MIH; José M. Zuniga, PhD, MPH
2015 Conference Program and Abstracts
Click the image below to download the complete 2015 Program and Abstracts in PDF format.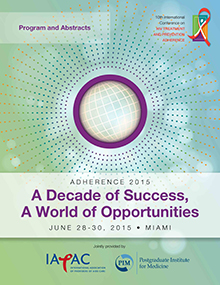 Requires free Acrobat Reader Plugin Software