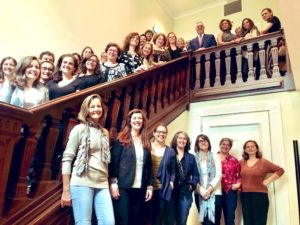 The Fast-Track Cities initiative hosted a skills-building workshop for 10 Portuguese cities on October 18, 2019, in Lisbon as part of a Gilead Sciences-funded series of European workshops organized around unique language families. The one-day workshop focused on exchanging best practices among the cities of Almada, Amadora, Cascais, Lisbon, Loures, Odivelas, Oeiras, Portimão, Porto, and Sintra, as they work to end the public health threat posed by HIV in their respective communities.
IAPAC President/CEO Dr. José M. Zuniga opened the workshop by welcoming representatives from the various cities and praising their innovative efforts to reach and surpass the UNAIDS 90-90-90 targets that are enumerated in the Paris Declaration on Fast-Track Cities. These targets seek to ensure that 90% of people living with HIV know their status, 90% of people living with HIV are receiving antiretroviral therapy (ART), and 90% of those on ART achieve and maintain viral suppression. Cities that have endorsed the Paris Declaration also pledge to eliminate the stigma and discrimination that often acts as a barrier to those seeking HIV testing, treatment, and prevention services.
Portugal's capital city of Lisbon will also host the Fast-Track Cities 2020 conference next year. This year's inaugural Fast-Track Cities 2019 conference in London welcomed more than 750 delegates from almost 200 Fast-Track Cities worldwide.