Lyon and Two French Overseas Territories Join Fast-Track Cities Network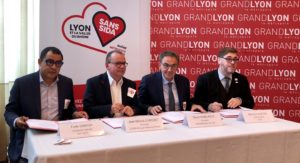 (LYON, France – October 10, 2019) The city of Lyon and Métropole of Lyon, France, joined the Fast-Track Cities network coinciding with the October 9-10, 2019, replenishment meeting of the Global Fund to Fight AIDS, Tuberculosis & Malaria hosted by French President Emmanuel Macron.
The Paris Declaration on Fast-Track Cities was co-signed by the Métropole's President David Kimelfeld; IAPAC's Vice President for Strategic Partnerships Bertrand Audoin; Dr. Fodé Simaga, Fast-Track Department Coordinator at UNAIDS; and Dr. Jean-Michel Livrozet, President of COREVIH, at a signing ceremony on October 7, 2019. Lyon's Mayor Gérard Collomb announced his signing of the Paris Declaration during opening remarks he delivered at the Global Fund replenishment meeting.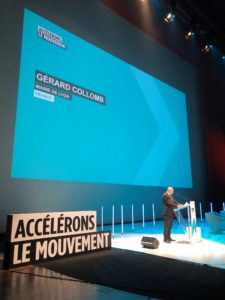 In signing the Paris Declaration, Mr. Kimelfeld said that "in the face of AIDS, we can never let our guard down. Following the commitments made by [Paris Mayor] Anne Hidalgo, we signed the Paris Declaration. Our goal is to be aggressive in our fight against the disease: awareness, information and screening are our priorities."
A week earlier, the French overseas territories of Mayotte and Saint-Denis de la Réunion joined the Fast-Track Cities network during a signing ceremony on October 1, 2019, in Paris. Elected officials, clinicians, and community leaders from various French overseas territories participated in the event, which was jointly coordinated by IAPAC and Gilead Sciences, in partnership with the Overseas Territories Delegation to the French National Assembly.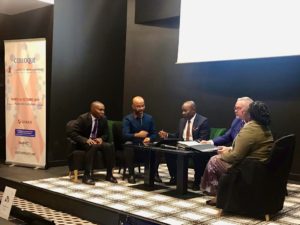 Mayor Gilbert Annette of Saint-Denis de la Réunion signed the Paris Declaration and Mayotte County Council Vice President Issa Abdou signed the Paris Declaration, alongside IAPAC President Dr. José M. Zuniga. IAPAC and the City of Paris are original core partners of the Fast-Track Cities initiative, which has grown to reach over 300 communities around the world since it was launched in the French capital on World AIDS Day 2014.
"With 30 new cases detected each year, Mayotte is, in terms of its population, the territory with the highest HIV prevalence in France, outside the Paris region, ahead of Guyana. This signature [on the Paris Declaration] is therefore of particular importance," said Issa Abdou.
Late diagnosis and insufficient data were cited by several event participants as challenges in accelerating HIV responses in overseas French departments. Located in the Indian Ocean, Mayotte and La Réunion also contend with the added challenges associated with poverty. IAPAC called for the development of regional cooperative networks for all French overseas territories. Participants at the event agreed that tackling stigma and discrimination should remain a high priority.
"Behind the word "AIDS," there are men, women, and children. We must not fight against them, but fight HIV," Jean-Luc Roméro reminded the event's participants. In 2002, Roméro became the first elected official in France to publicly reveal that he is living with HIV.