IAPAC Touts the Power of Partnership at EACS 2019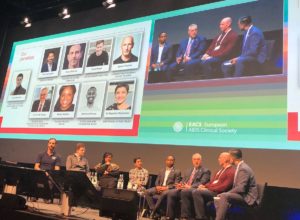 BASEL, Switzerland (November 6-9, 2019) – Leading voices in the clinical, public health, and community responses to HIV from across Europe joined IAPAC President/CEO Dr. José M. Zuniga in a symposium panel discussion at the start of the 17th European AIDS Conference (EACS 2019). The Gilead Sciences-sponsored symposium entitled, "Together We Can: Working in Partnership to Achieve Common Goals," provided a forum for discussing collaborative efforts to end new HIV infections and AIDS-related deaths in Europe within 10 years.
"No entity has the bandwidth or resources to tackle unaided an epidemic defined by 770,000 AIDS-related deaths and 1.7 million new HIV infections," said Dr. Zuniga, who also emphasized the vital importance of confronting stigma in all its forms to maximize the impact of public health interventions at urban and national levels. "We must thus harness the power of partnership for maximum impact."
Organized by the European AIDS Clinical Society (EACS) this year in Basel, Switzerland, the four-day biennial conference is focused on using the latest science in HIV and AIDS to create practical and effective applications in clinical settings. The conference ended with a panel discussion focused on successes achieved and challenges faced by European Fast-Track Cities. Moderated by IAPAC's Vice President for Strategic Partnerships Bertrand Audoin, the panel included representatives from Kyiv, London, Paris, and Madrid. In his panel presentation, Jorge Garrido, Executive Director of Madrid's Apoyo Positivo, reminded EACS delegates of a quote from former UN Secretary-General Kofi Annan: "The fear of stigma leads to silence, and when it comes to fighting AIDS, silence is death."
EACS 2019 organizers provided translation services for Russian speakers to increase accessibility for people living in Eastern Europe. Central Asia and Eastern Europe are the only regions of the world that are currently experiencing a rise in HIV infection rates. According to the Joint United Nations Programme on HIV/AIDS (UNAIDS), over 1.4 million people in this region were living with HIV in 2019.
Speakers noted that an estimated 438,000 people living with HIV remain undiagnosed in Europe. Although 11 European countries have reached the "overall target" of 73% of people living with HIV achieving viral suppression, according to Anastasia Pharris of the European Centre for Disease Prevention and Control, another 25 countries have more work to do to attain the target.
The UNAIDS goal was:
90% of all with #HIV diagnosed
90% of those on treatment
90% of those virally suppressed
so that 73% of all with HIV would be undetectable (& #UequalsU) by 2020.
Not all European countries will hit the target.
Great presentation by @stasiapc at #EACS2019. pic.twitter.com/dijONTB9Wb

— Matthew Hodson (@Matthew_Hodson) November 6, 2019
The Gilead Sciences-sponsored symposium on November 6, 2019, also screened selections from a new documentary, "Fast-Track Cities – Making Progress, Changing Lives," which chronicles the progress made and challenges ahead for more than 300 communities that are working in solidarity across continents towards getting to zero stigma, zero new HIV infections, and zero AIDS-related deaths. Produced by IAPAC and Gilead Sciences, the documentary features the voices of people at the forefront of urban HIV responses in the Fast-Track Cities of Atlanta, Bangkok, Kyiv, London, Nairobi, and São Paulo.