2018 Controlling the HIV Epidemic Summit
3-4 May 2018
International Conference Centre (CICG), Rue de Varembé 17, 1211 Geneva, Switzerland
GENERAL INFORMATION
The International Association of Providers of AIDS Care (IAPAC) will host the sixth Controlling the HIV Epidemic Summit on 3-4 May 2018, at the International Conference Centre in Geneva, Switzerland. The Summit is sponsored by IAPAC in collaboration with the Joint United Nations Programme on HIV/AIDS (UNAIDS), the Global Network of People Living with HIV (GNP+), the Foundation for AIDS Research (amfAR), and the Geneva University Hospitals (HUG).
This year's Summit will reflect a pathway towards the Sustainable Development Goal (SDG) of ending AIDS as a public health threat by 2030. In support of connecting the dots between attaining the UNAIDS 90-90-90 targets and controlling the HIV epidemic, the Summit will more clearly define the meaning of "HIV epidemic control' – including sufficient nuance to allow for the heterogeneity of the AIDS response. In addition, the summit will examine proposed new metrics for assessing progress in national and subnational HIV epidemic responses.
Moreover, the Summit will serve as a forum for the presentation of country experiences in fast-tracking the scale-up of HIV services, including within the context of other health conditions, notably tuberculosis. Clinicians, researchers, public health policy-makers, government officials, donor agency managers, civil society representatives, and other stakeholders will also explore ways of generating demand for and increased access to and utilization of HIV testing, prevention, care, and treatment services, including breaking down structural and other barriers across age, sex, geography, and key populations.
PROGRAM
The Summit will be co-chaired by Kenneth H. Mayer, MD (Fenway Institute, Boston, MA, USA) and Ilona Kickbusch, PhD (Graduate Institute of International and Development Studies, Geneva, Switzerland).
The Summit's program committee was given a mandate to promote action-oriented dialogue that builds upon the momentum from the 2016 Controlling the HIV Epidemic Summit (click here to access the 2016 program, slide sets, and/or archived webcasts).
This year's Summit program will feature plenary addresses and panel discussions across six thematic areas: 1) Defining "HIV Epidemic Control"; 2) Setting Metrics for Success; 3) Facilitating HIV Epidemic Control; 4) Leaving No One Behind; 5) Sharing National and Subnational Experiences; and 6) Mapping the Way Forward.
MEETING REPORTS
Download the Meeting Summary Report or Cartoon Coverage of the proceedings.
PRESENTATIONS
Following are summit presentations. IAPAC requests that any use of these presentations should include citations to both the presenting author(s) and relevant summit information (e.g., 6th Controlling the HIV Epidemic Summit, 3-4 May 2018, Geneva).
THURSDAY, 3 May 2018
WELCOME REMARKS

Ilona Kickbusch
Kenneth Mayer
KEYNOTE ADDRESS
The Health SDGs and UHC – Re-Igniting Political Will for Action
Soumya Swaminathan
---
DEFINING "HIV EPIDEMIC CONTROL"
"Controlling the HIV Epidemic" – What do We Mean?
Timothy Martineau
Actioning HIV Epidemic Control – PEPFAR's 13-Country Strategy
Ambassador Deborah L. Birx
---
SETTING METRICS FOR SUCCESS
HIV Epidemic Control – Overview of Existing and Proposed Metrics
Peter Ghys

Setting Metrics for Success – Are We Measuring What Matters?
Moderator:
José M. Zuniga
Panelists:
Ambassador Deborah L. Birx
Peter Ghys
Gottfried Hirnschall • Presentation
Peter Sands
Laurel Sprague • Presentation
---
FACILITATING HIV EPIDEMIC CONTROL
"Business Unusual" – Finding and Testing the HIV Unaware
Nitika Pant Pai
Long-Acting Antivirals – Where Are We Headed? Are We Ready
Carl Dieffenbach
Reaching 90% of People at Risk of HIV with Comprehensive Prevention
Karl Dehne
Integrating PrEP with Early Antiretroviral Therapy Initiation
Kenneth Mayer

Differentiated Care – Improving Engagement and Retention in HIV Care
Meg Doherty
Optimizing the Global Health Workforce to Control the HIV Epidemic
Moderator:
Paul Marsden
Panelists:
Stephen Ayisi Addo • Presentation
Mark Nelson • Presentation
Gillian Nkhalamba • Presentation
Carole Treston • Presentation
---
FRIDAY, 4 May 2018
LEAVING NO ONE BEHIND
Strengthening Community Engagement across the AIDS Response
Laurel Sprague
A Global Compact for Ending HIV-Related Stigma and Discrimination
Moderator: Andrea Boccardi Vidarte
Panelists:
Ibadat Dhillon
Eszter Kismödi
Ambassador Nathalie Olijslager
Valeriia Rachynska
Laurel Sprague • Presentation
---
SHARING NATIONAL AND SUBNATIONAL EXPERIENCES
Sub-Saharan Africa
Moderator:
Lillian Mworeko Kyomuhangi
Panelists:
Solange Baptiste • Presentation
Henry Nagai
Carol Ngunu-Gituathi • Presentation
Western and Eastern Europe
Moderator:
Anna Zakowicz
Panelists:Svitlana Moroz • Presentation
Anastasia Pharris • Presentation
Bryan Teixeira • Presentation
Asia-Pacific
Moderator:
Midnight Poonkasetwattana
Panelists:
Jennifer Hoy • Presentation
Marie Ko • Presentation
N. Kumarasamy • Presentation
Americas and the Caribbean
Moderator:
Brun González Aguilar
Panelists:
John Peter Figueroa • Presentation
Irene Hall • Presentation
Fernanda Rick • Presentation
---
MAPPING THE WAY FORWARD
Which Scale-Up Strategies/Programmatic Mixes are Most Cost Effective?
Iris Semini
Who is Going to Lead and Finance Efforts to Control the HIV Epidemic?
Moderator:
Ilona Kickbusch
Panelists:
Ambassador Deborah L. Birx
Matthew M. Kavanagh
Carmen Perez Casas
Iris Semini
---
Summit Program
Click the image below to download the Summit Program in PDF format.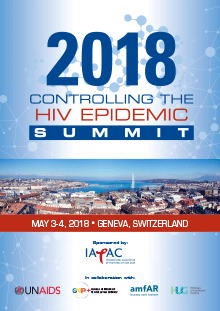 Requires free Acrobat Reader Plugin Software