Controlling the HIV Epidemic with Antiretrovirals: Leveraging Progress, Seizing Opportunities
13-14 October 2016
International Conference Centre (CICG), Rue de Varembé 17, 1211 Geneva, Switzerland

GENERAL INFORMATION
The International Association of Providers of AIDS Care (IAPAC), in collaboration with the Joint United Nations Programme on HIV/AIDS (UNAIDS), the Foundation for AIDS Research (amfAR), the Elizabeth Glaser Pediatric AIDS Foundation, the Agence Nationale de Recherche sur le Sida (ANRS), and the Geneva University Hospitals (HUG), will host a fifth annual summit aimed at leveraging antiretrovirals to end AIDS-related mortality and prevent new HIV infections.
Controlling the HIV Epidemic with Antiretrovirals: Leveraging Progress, Seizing Opportunities will take place 13-14 October 2016 at the International Conference Centre (CICG), Geneva, Switzerland. This year's summit will place the need to scale-up HIV treatment and prevention within the context of ending AIDS as a public health threat by 2030. The summit will serve as a forum for the presentation of data related to and discussion about the fast-tracked scale up of HIV treatment and prevention. The summit will also allow clinicians, researchers, public health policy-makers, government officials, donor agency managers, civil society representatives, and other stakeholders to explore ways of generating demand for and increasing access to and utilization of HIV testing, prevention, care, and treatment services, including breaking down structural and other barriers within affected communities.
PROGRAM
The summit will be co-chaired by Kenneth H. Mayer, MD (Harvard University/Fenway Institute, USA) and Paula Munderi, MD (Medical Research Council, Entebbe, Uganda). The Honorary Co-Chair is Julio SG Montaner, MD (British Columbia Centre for Excellence in HIV/AIDS, Vancouver, BC, Canada).
The summit's program committee was given a mandate to promote action-oriented dialogue to continue building upon the momentum from the 2015 summit (click here to access last year's program, slide sets, and/or archived webcasts). This year's summit program features plenary addresses and panel discussions across six thematic areas: 1) Controlling the HIV Epidemic, 2) Optimizing the HIV Care Continuum, 3) HIV Treatment for All, 4) Optimizing the HIV Prevention Continuum, 5) PrEP Implementation Science, and 6) Leaving No One Behind.
PRESENTATIONS
Following are summit presentations, uploaded daily during the summit in real-time.
IAPAC requests that any use of these presentations should include citations to both the presenting author(s) and relevant summit information (e.g., 5th Controlling the HIV Epidemic with Antiretrovirals Summit, 13-14 October 2016, Geneva).
THURSDAY, 13 October 2016
CONFERECE WELCOME

José M. Zuniga
Julio S.G. Montaner
Paula Munderi
KEYNOTE ADDRESS
Strategies, Emerging Opportunities, and Political Processes to Reach 90-90-90
Michel Sidibé
HIGH-LEVEL PANEL DISCUSSION
Leadership to End AIDS as a Public Health Threat – Do We Have What it Takes?
Moderator: Amb. Lennarth Hjelmåker • Presentation
Panelists:
Amb. Deborah L. Birx
Lucica Ditiu
Mark R. Dybul
Lelio Marmora
Michel Sidibé
JONATHAN MANN MEMORIAL LECTURE
Prioritizing AIDS in a World "Fatigued" by HIV: A Human Rights and Economics Argument for Finishing What We Started
Jeffrey Sachs
SPECIAL PRESENTATION PANEL
Task-Shifting for 90-90-90: Strategically Deploying Human Resources for Health
Moderators:
Anja Giphart
Badara Samb
Panelists:
Michel Sidibé
Jeffrey Sachs
José M. Zuniga
Mark Heywood
James Campbell
LUNCH PANEL DISCUSSION
The Role of Innovation to End AIDS as a Public Health Threat by 2030
Moderators:
Francesca Celletti
José M. Zuniga
Panelists:
Isabelle Andrieux-Meyer • Presentation
Jennifer Cohn • Presentation
Reuben Granich • Presentation
Francois Venter • Presentation
Mikkel Vestergaard Frandsen • Presentation
JOEP MA LANGE MEMORIAL LECTURE
Avoiding the Cost of Invisibility: Leaving No One Behind as We Attain 90-90-90
Amb. Deborah L. Birx
PANEL DISCUSSION
Challenges and Opportunities to Optimizing the HIV Care Continuum &emdash; Can We Test and Treat Enough People to Make a Seismic Difference by 2030?
Moderators:
Alexandra Calmy
Jean-François Delfraissy
Presenter: Reuben Granich • Presentation
Discussants:
Terri Ford
Sharonann Lynch
James McIntyre
John Pottage
Brian Williams
PANEL DISCUSSION
Leadership in Action: Case Studies in Implementing HIV Treatment for All
Moderators:
Mandeep Dhaliwal
Sarah Rowan
Presenter: Gottfried Hirnschall • Presentation
Discussants:
Florentino Badial-Hernández
Joshua Kimani
Sabin Nsanzimana • Presentation
Praphan Phanuphak
Francois Venter
PANEL DISCUSSION
Focusing the Clinical Response: Can Differentiated Care Accelerate the Implementation of HIV Treatment for All?
Moderators:
Meg Doherty
Paula Munderi
Presenter: Eric Goemaere • Presentation
Discussants:
Francesca Celletti
Kevin de Cock
Lucica Ditiu
Benjamin Young
Anna Zakowicz
FRIDAY, 14 October 2016
PLENARY ADDRESS
State-of-the-Science – When HIV Treatment is Prevention, What Then Do We Mean by Prevention?
Catherine Hankins
PANEL DISCUSSION
Challenges to and Opportunities for PrEP Uptake: What Have We Learned? What Gaps Must We Fill?
Moderator: Jane Anderson
Discussants:
K. Rivet Amico
Marcelo Araújo de Freitas
Michael Cassell
Catherine Hankins
Bruno Spire
PANEL DISCUSSION
Leadership in Action: Case Studies in Implementing PrEP within the Context of Combination HIV Prevention
Moderators:
Rachel Baggaley
Nikos Dedes
Panelists:
Natália Cerqueira • Presentation
Demetre Daskalakis • Presentation
Josephine Odoyo
Maria Prins • Presentation
Kevin Rebe
PANEL DISCUSSION
Gearing Up for PrEP 2.0 &emdash; Can Scientific and Other Innovations Transform PrEP in a More Powerful Game Changer across Key Populations?
Moderators:
Manuel Battegay
Celso Ramos
Presenter: Karen Hoover • Presentation
Discussants:
Rachel Baggaley
David Haerry
Tetiana Kiriazova
Patrick Oyaro
Midnight Poonkasetwattana
James Rooney
LUNCH PANEL DISCUSSION
Pulling in One Direction: Integrating the HIV Treatment and Prevention Agenda with the Cure and Vaccine Cure Agendas
Moderators:
Anja Giphart • Presentation
Luíz Loures
Panelists:
Noel Gill • Presentation
Rolando Barrios
Asier Sáez-Cirión
PANEL DISCUSSION
Situation Report on our Quest to End AIDS as a Public Health Threat by 2030
Moderators:
Gregorio Millett
Bernard Hirschel
Presenter: Mariângela Simão • Presentation
Discussants:
Bertrand Audoin
Esteban Burrone
Andreas Jahn
Chewe Luo
Jorge Saavedra
CLOSING PANEL DISCUSSION
Delivering on the Promise of an AIDS-Free Generation: Defining The Way Forward to Attain 90-90-90 and Zero Stigma and Discrimination Targets by 2020

Moderator:Mitchell Besser
Panelists:
Mirriam Lehlokoa
Luíz Loures
Paula Munderi
Kenly Sikwese
José M. Zuniga
Summit Program
Click the image below to download the Summit Program in PDF format.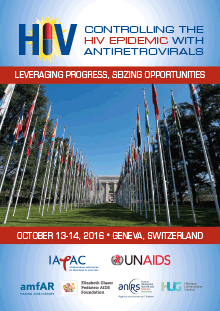 Requires free Acrobat Reader Plugin Software