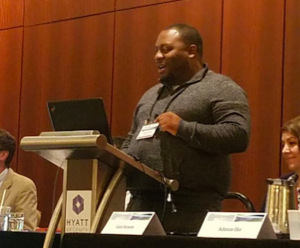 The Director of the US Centers for Disease Control and Prevention (CDC), Dr. Robert Redfield, presented the findings of a new CDC report at the triennial National HIV Prevention Conference (NHPC), which showed that roughly 80% of new HIV infections in the United States occur among people who either do not know their HIV status or are not receiving antiretroviral therapy (ART) to suppress their viral load. The NHPC took place March 18-21, 2019, in Atlanta, Georgia.
Dr. Redfield also spoke about the Trump Administration's new "Ending the HIV Epidemic" initiative that seeks to reduce new HIV infections in the United States by 90% by 2030. To reduce transmission, the CDC recommends that all adults get tested for HIV, that anyone who tests positive for HIV should be immediately initiated on ART, and that HIV at-risk individuals be prescribed PrEP. The CDC report further indicated that 43% of new HIV transmissions occur among the 23% of people living with HIV who are not on ART.
Many speakers stressed the importance of tackling the stigma that often acts as a barrier to those most in need accessing and utilizing HIV testing, treatment, and prevention services. Dr. Gail Wyatt, a Professor at the UCLA Semel Institute for Neuroscience and Human Behavior who also serves as the Associate Director of the UCLA AIDS Institute, highlighted the fact that African-American women represent 61% of women living with HIV, despite the fact that they comprise 13% of women in the United States.
Other speakers reported data demonstrating a link between localized outbreaks of new HIV infections and communities suffering from high rates of substance use. Kevin Cranston, who directs the Bureau of Infectious Disease for the Massachusetts Department of Public Health, said that clusters of new HIV infections were being observed among higher income areas of his state that are associated with higher numbers of people who inject drugs.
IAPAC was represented at the conference by Senior Director for Stakeholder Engagement, Ace Robinson. Since 2014, 23 municipalities across the United States have joined the global Fast-Track Cities network to achieve 90-90-90 – programmatic targets related to HIV testing, treatment, and viral suppression – as well as zero stigma.