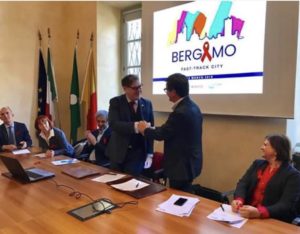 Mayor Giorgio Gori signed the Paris Declaration on Fast-Track Cities on March 18, 2019, on behalf of the city of Bergamo, Italy. Bergamo joins more than 270 municipalities around the world that have committed to achieving international targets in the fight against HIV, viral hepatitis, and tuberculosis.
"Thirty-five years of HIV history have not solved all problems, although major scientific goals have been achieved," said Mayor Gori at today's signing ceremony. "HIV/AIDS still remains a political problem where cities have a central role. Fighting against stigma and in favor of high-risk or marginalized populations is a must with relevant implications in terms of public health that go beyond the direct effect of the intervention. For us, joining the Fast-Track Cities project is an opportunity to glue all realities operating in our city and to renew the city efforts against HIV/AIDS."
Over two dozen stakeholders from among the local government, public health officials, clinicians, non-governmental organizations, charities, and community representatives participated in the meeting to discuss the city's progress in controlling the HIV epidemic. Officials from Bergamo said that they have already achieved the "90-90-90" targets for HIV testing, antiretroviral treatment, and viral suppression that are included in the Paris Declaration. The city will now implement a new program to test everyone diagnosed with HIV for hepatitis, and take advantage of the Fast-Track Cities network to share their insights with other communities around the world. Participants also noted the importance of continuing to fight against stigma towards people living with HIV.
"We are delighted to welcome the city of Bergamo to the global network of more than 270 Fast-Track Cities committed to ending the public health threats posed by HIV, viral hepatitis, and tuberculosis," said Dr. José M. Zuniga, President/CEO of IAPAC, the Fast-Track Cities initiative's core technical partner. "IAPAC stands ready to support the political leadership of Bergamo by building consensus between policymakers, healthcare providers, and members of the community to improve access to HIV, HBV, HCV, and TB testing, prevention, and treatment services, and to eliminate stigma as an obstacle to accessing and utilizing such services."
"In the last years, the extension of ARV treatment to all according to a test-and-treat approach have slightly reduced the number of yearly new diagnosis in our setting," said Dr. Franco Maggiolo, Managing Director of the Antiviral Therapy Unit at the Papa Giovanni XXIII Hospital of Bergamo. "However, TasP can be only an aspect of the general picture of the fight against HIV/AIDS. Joining the Fast-Track Cities project is a way to connect medical activities with local activism and the intervention of other cities' authorities. The scope is to promote a comprehensive approach that will include better programs for reaching marginalized populations, for sensitizing the general population and the youths, for spreading the culture of HIV testing and for overcoming stigma. We hope that being a part of a global network will help us on our path."