Public Comments Delivered by
IAPAC President/CEO Dr. José M. Zuniga at the
63rd Presidential Advisory Council on HIV/AIDS Meeting 
March 15, 2019, Washington, DC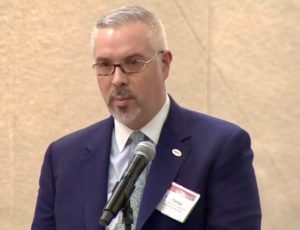 My name is Dr. José Zuniga, and I am the President/CEO of the International Association of Providers of AIDS Care, or IAPAC. In 2014, we partnered with UNAIDS and other institutions to launch the global Fast-Track Cities initiative. Last month, Columbia, South Carolina, became the 23rd US municipality to become a Fast-Track City, joining more than 270 other cities and municipalities worldwide.
Fast-Track Cities functions under a catalytic, data-to-care model. We coalesce politicians, public health officials, clinical leadership, service providers, and community stakeholders around accelerated local AIDS responses. Progress is measured by programmatic and service delivery targets. The initiative prioritizes key populations, and our aim is to increase the numbers of people – particularly from key populations – who are aware of their status, linked to care, initiated on PrEP or ART, and achieving the preventative and therapeutic benefits that these biomedical interventions represent.
We support President Trump's pledge to end the US HIV epidemic by 2030 because it is achievable. We believe that Fast-Track Cities is well aligned with and can support the new Ending the HIV Epidemic Plan because our US efforts are focused in cities and counties – for example, Birmingham and Jefferson County, San Antonio and Bexar County, and Atlanta and Fulton County. In this and other countries, we are also recruiting a critical mass of cities and municipalities to impact national HIV epidemics. We have seen such an impact in countries such as Brazil and the United Kingdom, and in PEPFAR-supported countries, including Kenya and Ukraine.
I commit that IAPAC will harmonize our Fast-Track Cities activities to support the new federal HIV strategy, including data generation and reporting, capacity-building, stigma elimination, and implementation science. And, I urge you to leverage the political will that we have engendered among Mayors, County Chairs and Judges, and even Governors across existing and prospective Fast-Track Cities. We share a belief in HIV responses that are community-centered, multi-stakeholder, data-informed, equity-based, and accountability-driven. These attributes all factor into the calculus for progress that we are witnessing across the Fast-Track Cities network.
As has already been said, we cannot rely solely on a biomedical approach. So long as HIV-related and intersectional stigma remain obstacles for people to seek HIV testing and other services, even the best intentions will achieve limited results. We have a duty to care for Americans who are marginalized by race, ethnicity, gender and gender identity, sexual orientation, mental health conditions, substance use disorders, poverty, and homelessness. De-stigmatizing an HIV diagnosis by promoting the U=U message is also critical.
Members of PACHA, the public health threat we face transcends politics. HIV affects us all. Only with that understanding, and by working together, can we make President Trump's pledge and the Ending the HIV Epidemic Plan a reality. IAPAC, UNAIDS, and the Fast-Track Cities initiative stand ready to play our role.
# # #