Updated June 30
This week,  the administration released an new fact sheet on Monkey pox. Key is the rollout of a national strategy for smallpox vaccination against monkeypox for people at risk. This follows a decision by Quebec Province to do the same with that province and Montreal being the epicenters of the current outbreak in North America
https://www.whitehouse.gov/briefing-room/statements-releases/2022/06/28/fact-sheet-biden-harris-administrations-monkeypox-outbreak-response/ 
As part of the monkeypox outbreak response, the Biden-Harris Administration is launching a national strategy to provide vaccines for monkeypox for individuals at higher risk of exposure. The strategy aims to mitigate the spread of the virus in communities where transmission has been the highest and with populations most at risk. This plan distributes the two-dose JYNNEOS vaccine, which the Food and Drug Administration (FDA) approved for protection against smallpox and monkeypox in individuals 18 years and older determined to be at high risk for smallpox or monkeypox infection. States will be offered an equitable allotment based on cases and proportion of the population at risk for severe disease from monkeypox, and the federal government will partner with state, local, and territorial governments in deploying the vaccines.
The goal of the initial phase of the strategy is to slow the spread of the disease. HHS will immediately allocate 56,000 vaccine doses currently in the Strategic National Stockpile to states and territories across the country, prioritizing jurisdictions with the highest number of cases and population at risk. To date, vaccines have been provided only to those who have a confirmed monkeypox exposure. With these doses, CDC is recommending that vaccines be provided to individuals with confirmed monkeypox exposures and presumed exposures. This includes those who had close physical contact with someone diagnosed with monkeypox, those who know their sexual partner was diagnosed with monkeypox, and men who have sex with men who have recently had multiple sex partners in a venue where there was known to be monkeypox or in an area where monkeypox is spreading.
In the coming weeks, HHS expects to receive an additional 240,000 vaccines, which will be made available to a broader population of individuals at risk. HHS will hold another 60,000 vaccines in reserve.
HHS expects more than 750,000 doses to be made available over the summer. An additional 500,000 doses will undergo completion, inspection, and release throughout the fall, totaling 1.6 million doses available this year.
Updated June 15
Monkeypox update from the CDC, HIVMA, IDSA and community partners webinar on June 10

Thank you for attending yesterday's webinar Monkeypox in the U.S. hosted by IDSA, HIVMA, Fenway Health, GLMA, NASTAD and PrEP4All. Below please find links to the webinar recording and the slide presentations.

Monkeypox in the U.S.: An Update for Clinicians and the LGBTQ+ Community (recording)
https://www.idsociety.org/multimedia/all-videos/monkeypox-in-the-u.s.-an-update/

Situational Awareness of Monkeypox Outbreak — United States, June 2022 (PDF)
https://www.hivma.org/globalassets/hivma/situational-awareness-of-monkeypox-outbreakunited-states-june-2022.pdf
Agam Rao, MD, CDC, Poxvirus and Rabies Branch
Demetre Daskalakis, MD, MPH, CDC, Division of HIV

Monkeypox: What Clinicians Need to Know (PDF)
https://www.hivma.org/globalassets/hivma/monkeypox-what-clinicians-need-to-know.pdf
Boghuma K. Titanji, MD, MSc, DTM&H, PhD, Emory University, Division of Infectious Diseases
First case report of Monkeypox in a person living with HIV
An HIV-positive man in his 30s taking Abacavir, Lamivudine and Dolutegravir and with a CD4 + T-cell count above 700 cells/mm3 (normal range 410–1,545 cells/mm3) and HIV viral load < 100 copies/mL, visited a primary care doctor after his return from Europe to Melbourne, Australia. He reported onset of a genital rash 8 days earlier. The rash had started 5 days after he reported unprotected sex with four casual male partners in Europe. The initial symptoms were painless white pustules on the penis that became painful and pruritic. He reported that he developed a fever and malaise 3 days after the first appearance of the penile rash and over the subsequent 5 days, the rash disseminated to his trunk, then more sparingly to the face and limbs while the genital lesions crusted over.
Swabs taken from deroofed skin lesions on the hand, calf and trunk in addition to combined nose throat swabs on the day of hospital admission, were all positive for monkeypox virus using previously described conventional [2] and in-house RT-PCR assays for orthopox and monkeypox viruses. Whole genome sequencing performed as described in the Supplementary material of DNA derived from the skin lesions resulted in the complete recovery of the entire monkeypox genome (MPXV-VIDRL01, Genbank_ID ON631963) with phylogenetic analysis revealing clustering with other monkeypox virus sequences from the May 2022 outbreak in Europe and the United States.
Rapid communication Home  Euro surveillance  Volume 27, Issue 22, 02/Jun/2022 Monkeypox infection presenting as genital rash, Australia Yael Hammerschlag et al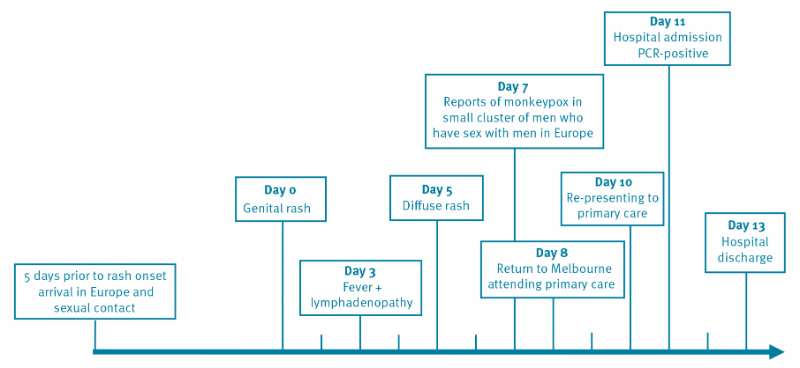 The World Health Organization (WHO) reported in its May 30, 2022, update that it had received reports of 257 confirmed monkeypox cases and approximately 120 suspected cases in 23 countries where the virus is not endemic as of May 26, 2022. In the United States, the Centers for Disease Control and Prevention (CDC) has reported 12 cases in eight states as of May 27, 2022. No deaths have been reported in nonendemic countries. The WHO classifies the global public health risk level posed by monkeypox as moderate.
Background
Monkeypox was first detected in 1958 in laboratory monkeys.1 The first human case of monkeypox was recorded in 1970 in the Democratic Republic of Congo.2 Since then, monkeypox has been reported in humans in other central and western African countries, with occasional cases reported outside of Africa.1
Global Outbreak
In May 2022, more than 120 confirmed or suspected cases of monkeypox have been reported in at least 11 non-African (endemic) countries, including Australia, Belgium, Canada, England, France, Germany, Israel, Italy, Netherlands, Portugal, Spain, Sweden, and Switzerland.2
Historical Context
In 2003, the first monkeypox outbreak outside of Africa was in the United States, when 70 cases in humans were reported, linked to contact with infected pet prairie dogs, which had been housed with Gambian pouched rats imported into the United States from Ghana.3 Monkeypox was reported in travelers from Nigeria to the United States in July 2021 and November 2021.3
2022 US and Global Outbreak
On May 20, 2022, the US Centers for Disease Control and Prevention (CDC) issued an alert urging doctors and state health departments to be vigilant for cases of monkeypox, following confirmation of cases in the US.4, 5 Federal officials say they expect to identify additional infections in the coming days. According to the CDC, it is not clear how people in the cluster outbreaks so far were exposed to the monkeypox virus but cases include people who self-identify as men who have sex with men.6 Public health officials have issued similar alerts in Australia, Belgium, Canada, England, France, Germany, Israel, Italy, Netherlands, Portugal, Spain, Sweden, and Switzerland.
Monkeypox virus is known to spread through close contact with the lesions, bodily fluids and respiratory droplets of infected people or animals or materials contaminated with the virus. Human transmission is thought to occur primarily through respiratory droplets. Investigations are ongoing that the virus may be spreading by sexual contact, following outbreaks of monkeypox in Europe related to two parties in Spain and Belgium, attended primarily by gay men. Although many cases have been reported among men who have sex with men (MSM), and bisexual men, spread may be occurring because the virus was introduced into the community and it has continued to spread there, both by sexual and social contact.
Key Facts about Monkeypox3
Monkeypox is caused by monkeypox virus.
Monkeypox typically presents clinically with fever, rash, and swollen lymph nodes and may lead to a range of medical complications.7
The incubation period is usually 7-14 days but can range from 5-21 days.
Monkeypox is usually a self-limited disease with the symptoms lasting from 2 to 4 weeks. Severe cases can occur and the fatality ratio has been around 3-6%.
Monkeypox is transmitted to humans through close contact with an infected person (skin lesions, body fluids, respiratory droplets and contaminated materials such as bedding) or animal, or with material contaminated with the virus.
The clinical presentation of monkeypox resembles that of smallpox but is less contagious than smallpox and causes less severe illness.
Vaccination against smallpox was demonstrated through several observational studies to be about 85% effective in preventing monkeypox. A vaccine based on a modified attenuated vaccinia virus (Ankara strain) was approved for the prevention of monkeypox in 2019.
An antiviral agent (tecovirimat) that was developed for smallpox was licensed by the European Medical Association (EMA) for monkeypox in 2022 based on data in animal and human studies. Tecovirimat is not yet widely available.
Summary of CDC Recommendations for Clinicians6
If clinicians identify patients with a rash that could be consistent with monkeypox, especially those with a recent travel history to areas reporting monkeypox cases, monkeypox should be considered as a possible diagnosis.
The rash associated with monkeypox involves vesicles or pustules that are deep-seated, firm or hard, and well-circumscribed
Presenting symptoms typically include fever, chills, the distinctive rash, or new lymphadenopathy; however, onset of perianal or genital lesions in the absence of subjective fever has been reported.
Information on infection prevention and control in healthcare settings is provided on the CDC website's Infection Control page.8
Clinicians in the United States should consult their state health department or CDC through the CDC Emergency Operations Center (770) 488-7100 as soon as monkeypox is suspected.
Clinicians outside of the United States consult their relevant subnational and national public health authorities for guidance and epidemiological surveillance purposes.
What At-Risk Individuals Should Do6
The CDC advises people who may have symptoms of monkeypox should contact their healthcare provider. This includes anyone who:
Traveled to central or west African countries, parts of Europe where monkeypox cases have been reported
Reports contact with a person with confirmed or suspected monkeypox
The World Health Organization (WHO) notes that available evidence suggests that those who are most at risk are those who have had close physical contact with someone with monkeypox, and that risk is not limited to men who have sex with men.
Notes
[1] Monkeypox goes global: why scientists are on alert Max Kozlov Nature News May 20 2022
[2] CDC Monkeypox https://www.cdc.gov/poxvirus/monkeypox/index.html Last updated May 20 2022
[3] Monkeypox World Health Organization May 19,2022 https://www.who.int/news-room/fact-sheets/detail/monkeypox
[4] CDC tells doctors to be on alert for monkeypox as global cases rise Washington Post https://www.washingtonpost.com/health/2022/05/20/cdc-monkeypox-alert/
[5] Monkeypox in the United States CDC https://www.cdc.gov/poxvirus/monkeypox/outbreak/us-outbreaks.html
[6] 2022 United States Monkeypox Case https://www.cdc.gov/poxvirus/monkeypox/outbreak/current.html
[7] Signs and Symptoms CDC https://www.cdc.gov/poxvirus/monkeypox/symptoms.html
[8] Precautions to Prevent Monkeypox Transmission https://www.cdc.gov/poxvirus/monkeypox/clinicians/infection-control-hospital.html