Updated September 29
Monkeypox Vaccine Performance Data & Vaccine Expansion Eligibility
Dear Partners,
[September 28, 2022], CDC is announcing expanded eligibility for monkeypox vaccination so that more people may receive the vaccine before they are exposed to the disease. Vaccination remains an important tool in preventing the spread of monkeypox, and this public health measure is known as pre-exposure prophylaxis, or PrEP.
Preliminary data from 32 states show that those who were eligible and did not receive the monkeypox vaccine were about 14 times more likely to become infected than those who did receive the monkeypox vaccine. For those vaccinated, protection was seen as early as two weeks after their first vaccine dose.
These data provide us with a level of cautious optimism in an area where there has been uncertainty about the level of protection the monkeypox vaccine offers.
CDC's Interim Clinical Considerations were also updated to provide additional information on intradermal administration of the monkeypox vaccine. In addition to the forearm, these revisions provide clinicians with additional discreet locations on the body to administer the vaccine, including the skin over the shoulder blade, or at the shoulder muscle, called the deltoid. The revisions also include directions on how to identify and manage a failed intradermal attempt.
As always, it is important for jurisdictions to tailor their vaccine strategies to meet local needs—even with these updates. Jurisdictions should decide on which populations to focus their efforts based on potential for exposure to monkeypox, local epidemiology, population needs, and feasibility based on available vaccine supply. In addition, CDC and other government agencies are supporting efforts to distribute the vaccine equitably. Our goal is to ensure those who need it, receive the vaccine before exposure.
CDC will continue to update information on monkeypox PrEP as the outbreak evolves and new data becomes available. To learn more about monkeypox in the U.S., visit CDC's monkeypox website.
Thank you for your continued partnership.
National Center for HIV, Viral Hepatitis, STD, and TB Prevention
Centers for Disease Control and Prevention
Updated September 9
Published in MMRW today
HIV and Sexually Transmitted Infections Among Persons with Monkeypox — Eight U.S. Jurisdictions, May 17–July 22, 2022
Summary
What is already known about this topic?
In the current global monkeypox outbreak, HIV infection and sexually transmitted infections (STIs) are highly prevalent among persons with monkeypox.
What is added by this report?
Among 1,969 persons with monkeypox in eight U.S. jurisdictions, 38% had HIV infection, and 41% had an STI in the preceding year. Among persons with monkeypox, hospitalization was more common among persons with HIV infection than persons without HIV infection.
What are the implications for public health practice?
It is important to leverage systems for delivering HIV and STI care and prevention and prioritize persons with HIV infection and STIs for vaccination. Screening for HIV and other STIs and other preventive care should be considered for persons evaluated for monkeypox, with HIV care and HIV preexposure prophylaxis offered to eligible persons.
Update August 12
Updated CDC Guidance on Safer Sex, Social Gatherings, and Monkeypox
How can a person lower their risk during sex?
What should a person do if they have a new or unexplained rash or other symptoms?
How can a person lower the chance of getting monkeypox at places like raves, parties, clubs, and festivals?
https://www.cdc.gov/poxvirus/monkeypox/sexualhealth/index.html
Monkeypox Update: FDA Authorizes Emergency Use of JYNNEOS Vaccine to Increase Vaccine Supply
Today, the U.S. Food and Drug Administration issued an emergency use authorization (EUA) for the JYNNEOS vaccine to allow healthcare providers to use the vaccine by intradermal injection for individuals 18 years of age and older who are determined to be at high risk for monkeypox infection. This will increase the total number of doses available for use by up to five-fold. The EUA also allows for use of the vaccine in individuals younger than 18 years of age determined to be at high risk of monkeypox infection; in these individuals JYNNEOS is administered by subcutaneous injection.
"In recent weeks the monkeypox virus has continued to spread at a rate that has made it clear our current vaccine supply will not meet the current demand," said FDA Commissioner Robert M. Califf, MD. "The FDA quickly explored other scientifically appropriate options to facilitate access to the vaccine for all impacted individuals. By increasing the number of available doses, more individuals who want to be vaccinated against monkeypox will now have the opportunity to do so." 
JYNNEOS, the Modified Vaccinia Ankara (MVA) vaccine, was approved in 2019 for prevention of smallpox and monkeypox disease in adults 18 years of age and older determined to be at high risk for smallpox or monkeypox infection. JYNNEOS is administered beneath the skin (subcutaneously) as two doses, four weeks (28 days) apart. For individuals 18 years of age and older determined to be at high risk of monkeypox infection, the EUA now allows for a fraction of the JYNNEOS dose to be administered between the layers of the skin (intradermally). Two doses of the vaccine given four weeks (28 days) apart will still be needed. There are no data available to indicate that one dose of JYNNEOS will provide long-lasting protection, which will be needed to control the current monkeypox outbreak.
Data from a 2015 clinical study of the MVA vaccine evaluated a two-dose series given intradermally compared to subcutaneously. Individuals who received the vaccine intradermally received a lower volume (one fifth) than individuals who received the vaccine subcutaneously. The results of this study demonstrated that intradermal administration produced a similar immune response to subcutaneous administration, meaning individuals in both groups responded to vaccination in a similar way. Administration by the intradermal route resulted in more redness, firmness, itchiness and swelling at the injection site, but less pain, and these side effects were manageable. The FDA has determined that the known and potential benefits of JYNNEOS outweigh the known and potential risks for the authorized uses.
To support the FDA's authorization of two doses of JYNNEOS administered by the subcutaneous route of administration in individuals younger than 18 years of age, the FDA considered the available JYNNEOS safety and immune response data in adults as well as the historical data with use of live vaccinia virus smallpox vaccine in pediatric populations.
JYNNEOS has been tested in individuals with immunocompromising conditions and has been found to be safe and effective in the trials that were performed to support approval. It was initially developed specifically as an alternative for use in immunocompromised individuals in the event of a smallpox outbreak.
On the basis of the determination by the Secretary of the Department of Health and Human Services on Aug. 9, 2022, that there is a public health emergency, or the significant potential for a public health emergency, that has a significant potential to affect national security or the health and security of United States citizens living abroad, and the declaration on Aug. 9, 2022, that circumstances exist justifying the emergency use of vaccines, the FDA may issue an EUA to allow emergency use of unapproved vaccines or unapproved uses of approved vaccines.
The FDA will provide updates as developments occur and will continue to work with federal public health partners and industry to ensure timely access to all available medical countermeasures. More information can be found on the agency's monkeypox webpage.
While CDC works to contain the current monkeypox outbreak and learn more about the virus, this information can help you make informed choices when you are in situations or places where monkeypox could be spread. Monkeypox is not considered a sexually transmitted disease, but it is often transmitted through close, sustained physical contact, which can include sexual contact.
While CDC works to contain the current monkeypox outbreak and learn more about the virus, this information can help you make informed choices when you are in situations or places where monkeypox could be spread. Monkeypox is not considered a sexually transmitted disease, but it is often transmitted through close, sustained physical contact, which can include sexual contact.
Updated August 5
Biden Administration Declares Monkeypox Outbreak a Public Health Emergency in the United States
The Biden administration is declaring monkeypox a public health emergency as the US outbreak has grown into the largest in the world, the nation's top health official said Thursday.
Health and Human Services Secretary Xavier Becerra's emergency declaration will help mobilize more resources to fight the outbreak, which has spread swiftly since health authorities in Boston confirmed the first US case in May. The last time the United States declared a public health emergency was in response to Covid-19 in January 2020. (Source: CNBC)
Updated July 30
Today, CDC issued a Health Alert Network (HAN) Update serves to alert clinicians to clinical considerations for preventing, diagnosing, and managing monkeypox in people with HIV, children, adolescents, and people who are pregnant or breastfeeding.
A  Health Alert conveys the highest level of importance; warrants immediate action or attention.
https://emergency.cdc.gov/han/2022/han00472.asp
Recommendations and Information for Healthcare Providers on Monkeypox in People with HIV
In the current outbreak, available international summary surveillance data in the CDC-issued clinical considerations for people with HIV indicate 30-51% HIV prevalence among persons with monkeypox for whom HIV status was known. It is currently unknown whether HIV infection affects a person's risk of acquiring Monkeypox virus infection and developing disease after exposure.
Persons with advanced and uncontrolled HIV might be at higher risk for severe or prolonged monkeypox disease. Therefore, prophylaxis (e.g., vaccination), medical treatment and close monitoring are a priority for this population. Compared with other persons with monkeypox, case reports among persons with inadequately treated HIV who have CD4 counts ≤350 per mm3 reported higher rates of secondary bacterial infection, more prolonged illness (and thereby also longer period of infectiousness), as well as a higher likelihood of a confluent or partially confluent rash, rather than discrete lesions. In contrast, recent reports of patients with HIV infection and monkeypox who are on effective antiretroviral therapy (ART) have noted no deaths or evident excess hospitalizations to date. Providers should consider both viral suppression and CD4 count in weighing the risk of severe outcomes from monkeypox for any patient with HIV.
Updated July 22
CDC has updated its guidance on Monkeypox and HIV
Monkeypox and HIV
CDC doesn't know if having HIV increases the likelihood of getting monkeypox. Monkeypox can spread to anyone through prolonged, close, personal, often skin-to-skin contact, as well as through contact with objects, fabrics (clothing, bedding, or towels), and surfaces that have been used by someone with monkeypox, or contact with respiratory secretions, through kissing and other face-to-face contact.
CDC continues to monitor monkeypox among people with HIV. During the current monkeypox outbreak, there does not appear to be more severe monkeypox illness in people who have HIV and are virally suppressed (having less than 200 copies of HIV per milliliter of blood). In fact, the World Health Organization (WHO) monkeypox guidance states, "People living with HIV on antiretroviral therapy with suppressed viral load are not considered to be immunosuppressed." However, people with HIV who are not virally suppressed may be at increased risk for severe illness and death from monkeypox.
Currently there is no treatment approved specifically for monkeypox. However, medicine (antivirals) developed for use in patients with smallpox may help treat people with monkeypox.
At this time, CDC doesn't have enough data to know whether people who have HIV and are virally suppressed might benefit from taking medicine if they get monkeypox.
Because patients with a weakened immune system may have more severe monkeypox illness, healthcare providers might consider using antiviral medicines (e.g., tecovirimat) or Vaccinia Immune Globulin for these patients. This could include people newly diagnosed with HIV or people with HIV who are not virally suppressed. See: Treatment Information for Healthcare Professionals.
At this time, vaccination is recommended for people with exposures to a probable or confirmed case with monkeypox, for example people who have had close physical contact with someone diagnosed with monkeypox. Vaccination may also be offered to people who had a presumed exposure, such as men who have sex with men who have had multiple sexual partners during the past 14 days in a jurisdiction with known monkeypox activity.
There are currently two licensed vaccines in the United States to prevent smallpox – JYNNEOS and ACAM2000. These smallpox vaccines may provide protection against monkeypox because smallpox and monkeypox are very similar viruses. Only JYNNEOS is FDA approved for the prevention of monkeypox in people 18 and older.
The JYNNEOS vaccine has been studied in people with HIV who are virally suppressed, and they do not have more frequent or severe side effects from the vaccine than people who did not have HIV. The JYNNEOS vaccine seems to be well tolerated, with the most common side effects being injection site pain, redness, swelling and itching. Some recipients also reported muscle pain, headache, fatigue, nausea, and chills. More data are needed to know if this vaccine is tolerated by people newly diagnosed with HIV or by people with HIV who are not virally suppressed. Clinicians should weigh the benefits of vaccination with the unknown risk of an adverse event for a person if their HIV is not virally suppressed.
ACAM2000 has been shown to have more frequent and severe side effects, especially for people with weakened immune systems or who are pregnant, have a heart condition, or skin conditions like eczema, psoriasis, or dermatitis. ACAM2000 is not recommended for people with HIV, even if they are virally suppressed, due to this increased risk of severe side effects.
Data is limited, but most HIV treatment can be safely given with monkeypox treatment and smallpox vaccines. People with HIV should inform their healthcare provider of all their medications to help determine if any interactions exist.
People with HIV should follow the same recommendations as everyone else to protect themselves from monkeypox.
Avoid direct contact with rashes, sores, or scabs on a person with monkeypox, including during intimate contact such as sex. We believe this is currently the most common way that monkeypox is spreading in the U.S.
Avoid contact with objects, fabrics (clothing, bedding, or towels), and surfaces that have been used by someone with monkeypox.
Avoid contact with respiratory secretions, through kissing and other face-to-face contact from a person with monkeypox.
Updated July 14, 2022
New Study Documents the Frequent Detection of Monkeypox Virus DNA in Saliva, Semen, and other Clinical Samples 
https://www.eurosurveillance.org/content/10.2807/1560-7917.ES.2022.27.28.2200503
This week,  the administration released an new fact sheet on Monkey pox. Key is the rollout of a national strategy for smallpox vaccination against monkeypox for people at risk. This follows a decision by Quebec Province to do the same with that province and Montreal being the epicenters of the current outbreak in North America
https://www.whitehouse.gov/briefing-room/statements-releases/2022/06/28/fact-sheet-biden-harris-administrations-monkeypox-outbreak-response/ 
As part of the monkeypox outbreak response, the Biden-Harris Administration is launching a national strategy to provide vaccines for monkeypox for individuals at higher risk of exposure. The strategy aims to mitigate the spread of the virus in communities where transmission has been the highest and with populations most at risk. This plan distributes the two-dose JYNNEOS vaccine, which the Food and Drug Administration (FDA) approved for protection against smallpox and monkeypox in individuals 18 years and older determined to be at high risk for smallpox or monkeypox infection. States will be offered an equitable allotment based on cases and proportion of the population at risk for severe disease from monkeypox, and the federal government will partner with state, local, and territorial governments in deploying the vaccines.
The goal of the initial phase of the strategy is to slow the spread of the disease. HHS will immediately allocate 56,000 vaccine doses currently in the Strategic National Stockpile to states and territories across the country, prioritizing jurisdictions with the highest number of cases and population at risk. To date, vaccines have been provided only to those who have a confirmed monkeypox exposure. With these doses, CDC is recommending that vaccines be provided to individuals with confirmed monkeypox exposures and presumed exposures. This includes those who had close physical contact with someone diagnosed with monkeypox, those who know their sexual partner was diagnosed with monkeypox, and men who have sex with men who have recently had multiple sex partners in a venue where there was known to be monkeypox or in an area where monkeypox is spreading.
In the coming weeks, HHS expects to receive an additional 240,000 vaccines, which will be made available to a broader population of individuals at risk. HHS will hold another 60,000 vaccines in reserve.
HHS expects more than 750,000 doses to be made available over the summer. An additional 500,000 doses will undergo completion, inspection, and release throughout the fall, totaling 1.6 million doses available this year.
Updated June 15, 2022
Monkeypox update from the CDC, HIVMA, IDSA and community partners webinar on June 10

Thank you for attending yesterday's webinar Monkeypox in the U.S. hosted by IDSA, HIVMA, Fenway Health, GLMA, NASTAD and PrEP4All. Below please find links to the webinar recording and the slide presentations.

Monkeypox in the U.S.: An Update for Clinicians and the LGBTQ+ Community (recording)
https://www.idsociety.org/multimedia/all-videos/monkeypox-in-the-u.s.-an-update/

Situational Awareness of Monkeypox Outbreak — United States, June 2022 (PDF)
https://www.hivma.org/globalassets/hivma/situational-awareness-of-monkeypox-outbreakunited-states-june-2022.pdf
Agam Rao, MD, CDC, Poxvirus and Rabies Branch
Demetre Daskalakis, MD, MPH, CDC, Division of HIV

Monkeypox: What Clinicians Need to Know (PDF)
https://www.hivma.org/globalassets/hivma/monkeypox-what-clinicians-need-to-know.pdf
Boghuma K. Titanji, MD, MSc, DTM&H, PhD, Emory University, Division of Infectious Diseases
First Case Report of Monkeypox in a Person Living with HIV
An HIV-positive man in his 30s taking Abacavir, Lamivudine and Dolutegravir and with a CD4 + T-cell count above 700 cells/mm3 (normal range 410–1,545 cells/mm3) and HIV viral load < 100 copies/mL, visited a primary care doctor after his return from Europe to Melbourne, Australia. He reported onset of a genital rash 8 days earlier. The rash had started 5 days after he reported unprotected sex with four casual male partners in Europe. The initial symptoms were painless white pustules on the penis that became painful and pruritic. He reported that he developed a fever and malaise 3 days after the first appearance of the penile rash and over the subsequent 5 days, the rash disseminated to his trunk, then more sparingly to the face and limbs while the genital lesions crusted over.
Swabs taken from deroofed skin lesions on the hand, calf and trunk in addition to combined nose throat swabs on the day of hospital admission, were all positive for monkeypox virus using previously described conventional [2] and in-house RT-PCR assays for orthopox and monkeypox viruses. Whole genome sequencing performed as described in the Supplementary material of DNA derived from the skin lesions resulted in the complete recovery of the entire monkeypox genome (MPXV-VIDRL01, Genbank_ID ON631963) with phylogenetic analysis revealing clustering with other monkeypox virus sequences from the May 2022 outbreak in Europe and the United States.
Rapid communication Home  Euro surveillance  Volume 27, Issue 22, 02/Jun/2022 Monkeypox infection presenting as genital rash, Australia Yael Hammerschlag et al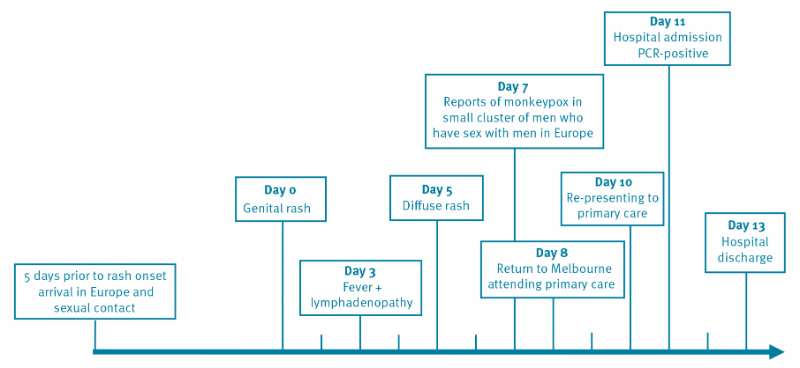 The World Health Organization (WHO) reported in its May 30, 2022, update that it had received reports of 257 confirmed monkeypox cases and approximately 120 suspected cases in 23 countries where the virus is not endemic as of May 26, 2022. In the United States, the Centers for Disease Control and Prevention (CDC) has reported 12 cases in eight states as of May 27, 2022. No deaths have been reported in nonendemic countries. The WHO classifies the global public health risk level posed by monkeypox as moderate.
Background
Monkeypox was first detected in 1958 in laboratory monkeys.1 The first human case of monkeypox was recorded in 1970 in the Democratic Republic of Congo.2 Since then, monkeypox has been reported in humans in other central and western African countries, with occasional cases reported outside of Africa.1
Global Outbreak
In May 2022, more than 120 confirmed or suspected cases of monkeypox have been reported in at least 11 non-African (endemic) countries, including Australia, Belgium, Canada, England, France, Germany, Israel, Italy, Netherlands, Portugal, Spain, Sweden, and Switzerland.2
Historical Context
In 2003, the first monkeypox outbreak outside of Africa was in the United States, when 70 cases in humans were reported, linked to contact with infected pet prairie dogs, which had been housed with Gambian pouched rats imported into the United States from Ghana.3 Monkeypox was reported in travelers from Nigeria to the United States in July 2021 and November 2021.3
2022 US and Global Outbreak
On May 20, 2022, the US Centers for Disease Control and Prevention (CDC) issued an alert urging doctors and state health departments to be vigilant for cases of monkeypox, following confirmation of cases in the US.4, 5 Federal officials say they expect to identify additional infections in the coming days. According to the CDC, it is not clear how people in the cluster outbreaks so far were exposed to the monkeypox virus but cases include people who self-identify as men who have sex with men.6 Public health officials have issued similar alerts in Australia, Belgium, Canada, England, France, Germany, Israel, Italy, Netherlands, Portugal, Spain, Sweden, and Switzerland.
Monkeypox virus is known to spread through close contact with the lesions, bodily fluids and respiratory droplets of infected people or animals or materials contaminated with the virus. Human transmission is thought to occur primarily through respiratory droplets. Investigations are ongoing that the virus may be spreading by sexual contact, following outbreaks of monkeypox in Europe related to two parties in Spain and Belgium, attended primarily by gay men. Although many cases have been reported among men who have sex with men (MSM), and bisexual men, spread may be occurring because the virus was introduced into the community and it has continued to spread there, both by sexual and social contact.
Key Facts about Monkeypox3
Monkeypox is caused by monkeypox virus.
Monkeypox typically presents clinically with fever, rash, and swollen lymph nodes and may lead to a range of medical complications.7
The incubation period is usually 7-14 days but can range from 5-21 days.
Monkeypox is usually a self-limited disease with the symptoms lasting from 2 to 4 weeks. Severe cases can occur and the fatality ratio has been around 3-6%.
Monkeypox is transmitted to humans through close contact with an infected person (skin lesions, body fluids, respiratory droplets and contaminated materials such as bedding) or animal, or with material contaminated with the virus.
The clinical presentation of monkeypox resembles that of smallpox but is less contagious than smallpox and causes less severe illness.
Vaccination against smallpox was demonstrated through several observational studies to be about 85% effective in preventing monkeypox. A vaccine based on a modified attenuated vaccinia virus (Ankara strain) was approved for the prevention of monkeypox in 2019.
An antiviral agent (tecovirimat) that was developed for smallpox was licensed by the European Medical Association (EMA) for monkeypox in 2022 based on data in animal and human studies. Tecovirimat is not yet widely available.
Summary of CDC Recommendations for Clinicians6
If clinicians identify patients with a rash that could be consistent with monkeypox, especially those with a recent travel history to areas reporting monkeypox cases, monkeypox should be considered as a possible diagnosis.
The rash associated with monkeypox involves vesicles or pustules that are deep-seated, firm or hard, and well-circumscribed
Presenting symptoms typically include fever, chills, the distinctive rash, or new lymphadenopathy; however, onset of perianal or genital lesions in the absence of subjective fever has been reported.
Information on infection prevention and control in healthcare settings is provided on the CDC website's Infection Control page.8
Clinicians in the United States should consult their state health department or CDC through the CDC Emergency Operations Center (770) 488-7100 as soon as monkeypox is suspected.
Clinicians outside of the United States consult their relevant subnational and national public health authorities for guidance and epidemiological surveillance purposes.
What At-Risk Individuals Should Do6
The CDC advises people who may have symptoms of monkeypox should contact their healthcare provider. This includes anyone who:
Traveled to central or west African countries, parts of Europe where monkeypox cases have been reported
Reports contact with a person with confirmed or suspected monkeypox
The World Health Organization (WHO) notes that available evidence suggests that those who are most at risk are those who have had close physical contact with someone with monkeypox, and that risk is not limited to men who have sex with men.
Notes
[1] Monkeypox goes global: why scientists are on alert Max Kozlov Nature News May 20 2022
[2] CDC Monkeypox https://www.cdc.gov/poxvirus/monkeypox/index.html Last updated May 20 2022
[3] Monkeypox World Health Organization May 19,2022 https://www.who.int/news-room/fact-sheets/detail/monkeypox
[4] CDC tells doctors to be on alert for monkeypox as global cases rise Washington Post https://www.washingtonpost.com/health/2022/05/20/cdc-monkeypox-alert/
[5] Monkeypox in the United States CDC https://www.cdc.gov/poxvirus/monkeypox/outbreak/us-outbreaks.html
[6] 2022 United States Monkeypox Case https://www.cdc.gov/poxvirus/monkeypox/outbreak/current.html
[7] Signs and Symptoms CDC https://www.cdc.gov/poxvirus/monkeypox/symptoms.html
[8] Precautions to Prevent Monkeypox Transmission https://www.cdc.gov/poxvirus/monkeypox/clinicians/infection-control-hospital.html