World Hepatitis Alliance and IAPAC Announce Fast-Track Cities Partnership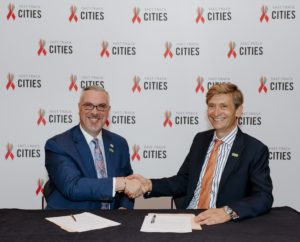 LONDON, UNITED KINGDOM (September 9, 2019) – The World Hepatitis Alliance (WHA) and the International Association of Providers of AIDS Care (IAPAC) announced a new partnership today on the first day of the Fast-Track Cities 2019 conference in London. The conference is convening more than 750 delegates from a network of more than 300 Fast-Track Cities striving to end urban HIV, tuberculosis (TB), and viral hepatitis (HBV and HCV) epidemics.
"Our partnership with the World Hepatitis Alliance will support Fast-Track Cities in addressing the public health threat posed by HBV and HCV," said IAPAC President/CEO Dr. José M. Zuniga. "In the era of the health-related Sustainable Development Goals, we have an obligation to work with our colleagues across health conditions. We are honored to formally join with the World Hepatitis Alliance to reach our mutual goal of ending hepatitis-related deaths among people living with HIV and, ultimately, achieving HBV and HCV elimination."
World Hepatitis Alliance CEO Cary James signed a Memorandum of Understanding (MOU) alongside IAPAC's Dr. Zuniga during a ceremony at the Fast-Track Cities 2019 conference today at the Barbican Centre in London. The conference, which features panels and presentations from researchers, community advocates, and elected officials, will run through to Wednesday, September 11, 2019.
"We are excited to join with the Fast-Track Cities initiative to accelerate and strengthen cities' responses to viral hepatitis, a disease which claims 1.4 million lives each year," said World Hepatitis Alliance CEO Cary James. "We have the tools needed to eliminate viral hepatitis, but a key challenge is finding the 290 million people who are unaware that they are living with viral hepatitis. Up-scaling diagnoses will be the cornerstone to cities' hepatitis responses. If we find the missing millions and link them to treatment, we can eliminate viral hepatitis by 2030."
The MOU affirms a commitment between IAPAC and the World Hepatitis Alliance to joint advocacy, awareness-raising, capacity-building, and other activities in support of the goal of eliminating HBV and HCV by 2030.
---
About the International Association of Providers of AIDS Care (IAPAC)
IAPAC is the largest association of clinicians and allied health professionals working to end AIDS as a public health threat by 2030. For more information about IAPAC, please visit: https://www.iapac.org/
About Fast-Track Cities
Fast-Track Cities is a global partnership between almost 300 cities and municipalities, IAPAC, UNAIDS, UN-Habitat, and the City of Paris that are collaborating to end the epidemics of HIV, TB, and viral hepatitis in urban settings by 2030. For more information please visit: https://www.iapac.org/fast-track-cities/about-fast-track/
About the World Hepatitis Alliance
Patient-led and patient-driven, the World Hepatitis Alliance (WHA) represents the 325 million people living with viral hepatitis worldwide as well as over 280 member organizations in 91 countries. WHA amplifies patient voices in global health; builds the capacity of our members to advocate and deliver services; increases awareness of viral hepatitis through integrated campaigns; and works with partners to develop and implement comprehensive hepatitis strategies in countries around the world. Through increased screening, accessible treatment, wider awareness, targeted prevention, patient-centered care and support, WHA's ultimate goal is the elimination of viral hepatitis by 2030. For more information please visit www.worldhepatitisalliance.org