Four Irish Cities Join Fast-Track Cities to Form "Fast-Track Ireland"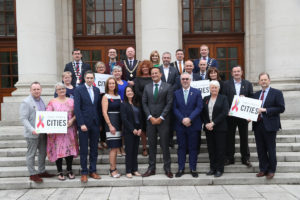 June 14, 2019 — Irish Prime Minister Leo Varadkar applauded the cities of Cork, Dublin, Galway, and Limerick for signing the Paris Declaration on Fast-Track Cities today in a country-wide effort to address the HIV epidemic. Ireland's Minister for Health Simon Harris and Minister for Health Promotion Catherine Byrne attended a signing ceremony in Dublin, along with IAPAC President/CEO Dr. José M. Zuniga, HSE National Director of Health and Wellbeing Dr. Stephanie O'Keefe, and officials and community representatives from each city.
"The Government wants to reduce the number of people who contract HIV," said Irish Prime Minister Leo Varadkar. "We want to make it easier for people to get tested and know their status, as people who know their status get treated and are far less likely to pass it on. I am really pleased that Ireland is joining forces with other cities and partners around the world in this global initiative to fight HIV. Collaborating in this way will help us to identify and share best practices."
More than 300 municipalities have now joined the Fast-Track Cities network in pursuit of international programmatic targets related to HIV testing, treatment, and prevention. The network promotes collaboration between local elected officials, community organizations, clinical and service providers, and people living with HIV to optimize HIV prevention and care continua by using data-driven strategies to ensure no one is left behind in urban and national HIV responses.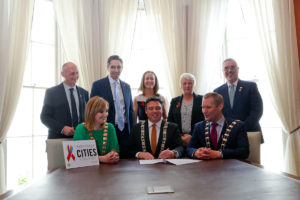 "IAPAC welcomes the Irish cities of Cork, Dublin, Galway, and Limerick to the Fast-Track Cities network, and we applaud the political commitment made by their Mayors, in partnership with affected communities, to work towards ending their local HIV epidemics," said Dr. Zuniga. "We also applaud the Department of Health's investment towards Fast-Track Ireland activities – an investment that is 'wind in the sails' for ambitious plans to scale-up HIV testing, linkage to preventative and therapeutic care, and eliminate the barrier that AIDS-related stigma continues to represent almost four decades into the global HIV epidemic."
The Government of Ireland announced that it will also allocate an additional €450,000 in funding for HIV testing, treatment, prevention programs. These four Irish cities will work together along with Healthy Ireland and the Healthy City and Counties program to reach the targets that have been set by the Fast-Track Cities initiative. The Paris Declaration on Fast-Track Cities was launched on World AIDS Day in 2014 with IAPAC, the Joint United Nations Programme on HIV/AIDS (UNAIDS), the United Nations Human Settlements Programme (UN-Habitat), and the City of Paris as the core partners.
"Sexual health is one of our key priorities under Healthy Ireland and reducing the number of new HIV diagnoses in Ireland is a priority focus for me," said Ireland's Health Minister Simon Harris. The new funding also includes support for increased access to preventative PrEP medication and a public awareness campaign about the negative impacts of HIV-related stigma.
Representatives of community organizations in each of the four cities also signed the Paris Declaration today, including HIV Ireland (Dublin), AIDS West (Galway), GOSHH (Limerick), and Sexual Health Centre Cork. Each of these community partners are promoting HIV testing as part of their efforts to respond to Ireland's HIV epidemic.