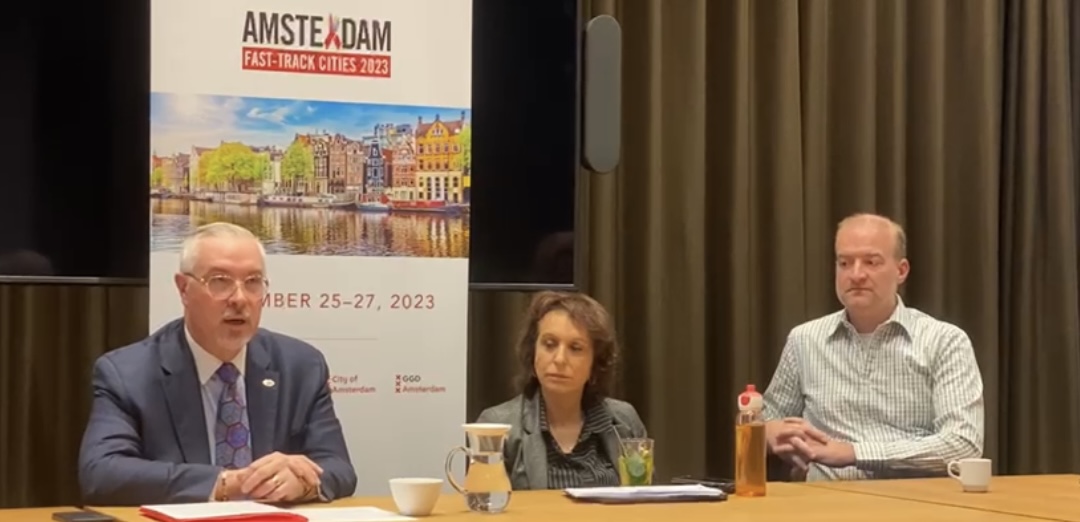 Fast-Track Cities 2023 Announcement Remarks by Dr. José M. Zuniga
January 23, 2023 – Amsterdam Town Hall
The International Association of Providers of AIDS Care (IAPAC) and the City of Amsterdam held a joint event at the Amsterdam Town Hall on January 23, 2023, to officially announce the Fast-Track Cities 2023 conference will be held September 25-27, 2023, in Amsterdam, Netherlands. Following are remarks delivered by Dr. José M. Zuniga, President/CEO of IAPAC and the Fast-Track Cities Institute at the joint event:
"Good morning and thank you for the kind introduction. I wish to extend my gratitude to Mayor Femke Halsema for her continued public health leadership around HIV, but also for her commitment to equity, inclusiveness, and solidarity – the three pillars of the Fast-Track Cities movement.
I am happy to join Deputy Mayor Shula Rijxman in formally announcing that our Fast-Track Cities 2023 conference will take place September 25-27 this year here in Amsterdam. You are one of the original 26 Fast-Track Cities that joined our network on World AIDS Day 2014 by signing the Paris Declaration on Fast-Track Cities. Since then, and as the Fast-Track Cities network has grown to more than 500 cities and municipalities in every corner of the globe, Amsterdam has been a true stand-out in the progress made towards curbing new HIV infections through an integrated and inclusive approach. You have set an example both here in the Netherlands, where we currently count two more member cities – Rotterdam and Utrecht – as well as an example to Fast-Track Cities across Europe and around the world. This was reflected in Amsterdam receiving our "Circle of Excellence" award when we last convened for Fast-Track Cities 2022 last year in Sevilla, but more importantly in the lives saved and enhanced through the dedicated efforts of community, clinical, public health, and political leaders.
In 2014, when Amsterdam became a Fast-Track City, you had already made solid progress on what were then the initiative's 90-90-90 targets: that 90% of people living with HIV were diagnosed, that 90% of those individuals were on treatment, and that 90% of those on treatment were virally suppressed. That year, your numbers stood at 93% diagnosed, 88% of those diagnosed on treatment, and 94% of those on treatment virally suppressed. Amsterdam fully met the 90-90-90 goals one year later, in 2015 – five years earlier than the 2020 target – and by 2020, you had already almost met the 2025 targets of reaching 95% on those same metrics. This is something that only a handful of cities in the world have achieved, so it is not hyperbole to call Amsterdam a global leader in the fight to end urban HIV epidemics. Two years ago, Amsterdam announced the even more ambitious goal of getting to zero new HIV infections by 2026, and you are well on your way.
The advent of PrEP for HIV prevention – as an adjunct to treatment as prevention – has made ending urban HIV epidemics all the more possible. But you also understand and are acting on the fact that ending an urban HIV epidemic requires a strong enabling environment.
Your ongoing work, guided by your world-renowned H-TEAM, is supported by the premise that only by getting to zero new HIV infections can we really ensure that no one is left behind in our HIV responses. Reaching the 95 targets, as significant a milestone as that is for cities and municipalities to attain, still begs the question: Who is among the 5% who are still not being reached? The 95 targets also do not explicitly speak to issues such as inequity and inequality, stigma and discrimination, or about the dignity and quality of life all people living with and affected by HIV deserve and have a right to realize within communities that value inclusiveness.
But you also are acutely aware of and advancing efforts to address syndemic conditions and co-morbidities, including tuberculosis and viral hepatitis, but also mental health conditions and substance use. These syndemic conditions and co-morbidities, like HIV itself, are fueled and exacerbated when our collective efforts lack a grounding in how to optimize social and political determinants of health for all people everywhere, thus prioritizing the well-being of visible and invisible communities.
Which brings me to the theme for the Fast-Track Cities 2023 conference: 'Integration and Inclusion for Impact.' As cities and municipalities strive to end HIV and tuberculosis epidemics, and eliminate viral hepatitis, an integrated approach to these responses must prioritize inclusivity in health and social care. For example, Amsterdam and the Netherlands have inclusive policies around issues facing key populations with respect to these conditions, including LGBTQ rights, drug use, and sex work. Inclusive policies that respect long-marginalized communities and avoid criminalizing behaviors allow for evidence-based public health to ensure that key populations can be best reached for services. Equally important, inclusive laws and policies help to address intersecting forms of stigma and discrimination, ensuring that those living with and at risk for HIV, tuberculosis, and viral hepatitis can live full lives, unhindered by unjust and harmful social exclusion.
'Integration and inclusion' also mean taking innovative approaches to reach, serve, and retain in care those who are most in need of health services. Last year, we launched a Fast-Track Cities Best Practices Repository to highlight the ground-breaking work being done in our member cities. One best practices from Amsterdam involved creating an STI clinic strategy that engaged with sexual minority men and providers to increase understanding of acute HIV infection and to more rapidly initiate HIV treatment. As a result of this strategy, the percentage of newly diagnosed HIV cases that were in the acute phase rose dramatically, and the average time between diagnosis and starting treatment was reduced from 439 days to one. Not only does that strategy make a significant difference in the lives of those who are diagnosed, it also means greatly reducing the risk of new, additional infections, since we know that those who are in treatment and reach an undetectable viral load are not able to transmit HIV to others – which is known as Undetectable = Untransmittable, or U-U.
Inclusivity is also key to meeting the United Nations' Sustainable Development Goals, or the SDGs, including SDG 3.3, ending HIV and tuberculosis as well as eliminating viral hepatitis. As I have alluded to, that goal cannot be met without addressing underlying social inequities as well as stigma. SDG 10.3 is also relevant, as it calls for 'eliminating discriminatory laws, policies, and practices' across societies. We know that vulnerable groups of people that face inequitable HIV outcomes in different contexts – such as LGBTQ individuals, racial and ethnic minorities, sex workers, migrants, and women and girls – face some of the most discriminatory laws and policies. And, SDG 11 calls for us to 'make cities and human settlements inclusive, safe, resilient, and sustainable' – a reflection of the fact that growing urbanization has to be met with inclusion if humanity is to thrive.
While ending HIV and tuberculosis, and eliminating viral hepatitis, may seem like daunting tasks, cities and municipalities such as Amsterdam are showing us that these ambitious goals are within reach. And when we see these conditions as both reflecting and exacerbating underlying social injustices, it also becomes clear that our mission is part of a broader goal to secure a better, safer, inclusive, and more equitable future for all people. Advancing our collective cause requires precisely what Amsterdam's motto advocates: We must be brave. We must be committed. And, we must be compassionate. These three calls to action will guide us at this year's Fast-Track Cities 2023 conference, which I look forward to opening September 25, 2023, at the RAI here in Amsterdam.
In addition to the Amsterdam Mayor's office, I wish to recognize our partnership with GGD Amsterdam, the H-Team, Aidsfond, Soa Aids Nederland, and many other local organizations with which we are engaging to ensure that the Fast-Track Cities 2023 conference will be a resounding success. Throughout this week we were able to witness first-hand the incredible work that these organizations are doing to address social inequities and determinants of HIV, demystifying the several and complex layers of stigma, in addition to their international aid cooperation work. Despite the incredible advances in the Netherlands, further debate and political actions are needed. The PrEP delivery model needs to be rethought and politically endorsed to prioritize a powerful HIV prevention tool, notably by eliminating waiting lists. Access to transgender-specific healthcare needs to be optimized as does access to healthcare by undocumented people under the premise that healthcare is a universal right in a society that values dignity and well-being for every person. We hope that the Fast-Track Cities 2023 conference will serve as a catalyst for these types of discussions, including and recognizing affected communities' centrality to achieving the 10 commitments laid out in the Sevilla Declaration on the Centrality of Affected Communities in Urban HIV Responses.
I also thank Gilead Sciences, Merck Sharpe & Dohme, and ViiV Healthcare for being among the corporate sponsors investing in this annual gathering of Fast-Track Cities. But, ultimately, I thank local stakeholders across the Fast-Track Cities network who are daily giving of themselves to achieve the goals, objectives, and targets to which their cities and municipalities committed in signing the Paris Declaration on Fast-Track Cities. I invite you to join us in Amsterdam later this year to share your experiences and partake in constructive dialogue about addressing cross-cutting challenges and meeting exciting new opportunities for the benefit of all people everywhere."