An interview with IAPAC's President/CEO, Dr. José M. Zuniga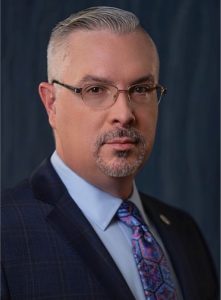 Over the past four weeks, Ukraine has become the focal point of international attention as it pushes back on Russian military aggression while enduring the hardships that war inflicts on combatants and civilians. In the images depicting the effects of military assaults, it is difficult to differentiate the people who are feeling the impact of an unprovoked war. Nonetheless, among them are Ukrainians living with HIV and people who are vulnerable to HIV acquisition based on social determinants of health. Dr. José M. Zuniga, President/CEO of the International Association of Providers of AIDS Care (IAPAC) and the Fast-Track Cities Institute (FTCI), reflects upon the humanitarian crisis and efforts to show solidarity with the people of Ukraine.
What are your thoughts about the humanitarian crisis precipitated by the Russian Federation's military assault on Ukraine?
Without wading too deep into an evolving geopolitical situation, suffice it to say that IAPAC and FTCI condemn violence perpetrated against any people, including when it is the result of military aggression. Such violence runs counter to the Universal Declaration of Human Rights and other human rights instruments, including the European Convention on Human Rights, of which the Russian Federation and Ukraine are both parties. If we have learned anything from history, it is that civilians bear the brunt of suffering caused by military conflict, and sadly we are now witnessing through news reports a surge of attacks on civilian facilities, including hospitals, and an escalating civilian death toll.
 What impact is the military campaign having on Ukrainians living with and affected by HIV?
There are an estimated 250,000 people living with HIV in Ukraine. Thanks to the efforts of local, national, regional, and international partners, among them IAPAC and FTCI, the HIV response in Ukraine has grown ever more robust and contributed to improvements across the HIV care continuum. Prior to the start of the current hostilities in Ukraine, there was still much work to do to close HIV testing and treatment gaps, but there was clearly forward momentum to further accelerate the HIV response across the five Fast-Track Cities in Ukraine. In Kyiv, which was the first city in Ukraine to join the Fast-Track Cities network, we saw a double-digit percentage point increase in the number of people living with HIV on antiretroviral therapy – from 44% in 2015 to 81% in 2020. On the HIV prevention front, we had seen progress in scaling up pre-exposure prophylaxis (PrEP). Additionally, efforts to address the psychosocial and harm reduction needs of people who inject drugs were in a state of continuous improvement, serving as a model to replicate beyond Ukraine's borders. And, notably, the HIV community, working in partnership with political and public health leaders, was demonstrating the power of multi-stakeholder collaboration to address HIV and intersectional stigma in a way that contributed to bolstering respect for all people living with and affected by HIV, including LGBTQ+ people, people who inject drugs, and others vulnerable by virtue of their social status. This remarkable progress achieved in Ukraine over several years is now jeopardized by unavoidable HIV and other health service disruptions and the displacement of millions of people both within Ukraine and to bordering countries. I am also deeply concerned about the mental health and socioeconomic crises that all Ukrainians will endure for the foreseeable future. Finally, it is worth noting that the COVID-19 pandemic is not over and adds one more layer of complexity on the health needs of Ukrainians in general, including those affected by HIV.
What has been learned to date from the public health response in Ukraine and about the importance of networks of affected communities in disaster situations?
Projecting public health needs is key. For example, prior to the escalation of military hostilities, the Ukrainian public health system provided a month's supply of antiretroviral therapy (ART) to the estimated 156,000 people living with HIV. Additionally, health facilities and people who inject drugs were provided a one-month supply of opioid substitution therapy (OST). Supply chains are now disrupted, and we are hearing about stock outs in heavily bombarded regions, but at a minimum, neither ART nor OST were immediately disrupted. Moreover, we have witnessed how formal and informal networks of people affected by HIV – in Ukraine and surrounding countries – have mobilized to support each other through these difficult times. We, IAPAC and FTCI, are in contact with these networks as we aim to offer our assistance to community groups, clinicians, and public health clinics. What we have learned over the past few weeks also reinforces what we observed throughout the COVID-19 pandemic: there is an important role that city governments must play in equal partnership with national governments when faced with natural or human-made disasters. The current situation has additionally revealed some inherent weaknesses in the health system, not exclusive to Ukraine, that require public health preparedness at the city level on par with the pandemic preparedness planning that many Fast-Track Cities are now engaged in based on lessons learned from the COVID-19 pandemic. Bottom line, though, as with the response to the colliding COVID-19 and HIV epidemics around the world, an important take-away from the first few weeks of this military conflict is the powerful nature of community engagement. Community is once again on the front lines, filling in the gaps, and worthy of our support today, tomorrow, and into the future, as an integral part of the global public health architecture.
What are IAPAC and FTCI doing to respond to the needs of Ukrainians living with and affected by HIV? Both those in-country and those seeking refuge in other countries?
In addition to communicating our solidarity with the people of Ukraine, IAPAC and FTCI are engaged in efforts to convey a broader range of solidarity from IAPAC's 30,000 clinician-members and the global network of more than 380 Fast-Track Cities. We cannot be ambiguous in that expression, not when so many lives have been turned upside down and the number of war casualties, including deaths, continues to rise. But our solidarity in words is not sufficient. We are partnered with like-minded donors and institutions in multiple countries to secure medical commodities, including antiretroviral and other medications. We are supporting calls for individual and corporate donations to aid community-based organizations in Ukraine, as well as Poland, Romania, and other countries that are giving refuge to millions of fleeing Ukrainians, among them people living with HIV. And, as a medical association, IAPAC is equally focused on the needs of displaced clinicians and other healthcare professionals as their needs, on a personal level, are as acute as those of any other refugee. This is an all-hands-on-deck moment for us all and we are proud to be part of a coordinated effort aimed at translating words into action.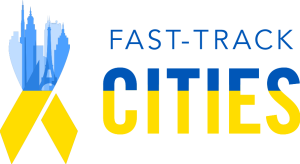 What can individuals do to stand in solidarity with and assist Ukrainians living with and affected by HIV?
I encourage individuals to advocate a peaceful resolution to the current military conflict in Ukraine. Contact your elected officials. Make your voices heard through social media. #WeStandWithUkraine should be going mega-viral daily. Global solidarity is crucial. I can tell you from personal interactions with Ukrainian friends and colleagues that these expressions of solidarity from everyday people mean to them as much as those coming from political leaders (as important as political statements are to present a united front against war in Ukraine). But actions can speak louder than words. If individuals have the means, there are vehicles through which to donate to humanitarian relief efforts, including a Fast-Track Cities Solidarity Fund aimed at assisting Ukrainian people living with and affected by HIV and those institutions on-the-ground that are willing and capable to weave a safety net for those made vulnerable by war.
What is your hope for the future of Ukraine and its communities affected by HIV?
My hope for Ukraine is that it will maintain its rightful place among the nation-states of the world, in peaceful co-existence with its regional neighbors. I pray for a speedy end to the military aggression that is affecting the entirety of Ukrainian society, but also its bordering countries, including those providing sanctuary to millions of refugees. As a veteran of a foreign war, and to quote someone else's words, "I hate war as only a soldier who has lived it can." As a human being, my heart embraces the people of Ukraine and I hope that they may soon resume their lives realizing their human rights to life, liberty, and security of person. And, as a public health practitioner, I hope that we can work shoulder-to-shoulder with communities, clinicians, public health, and political partners to rebuild and fortify the HIV response in Ukraine. At the appropriate moment, when hostilities cease, we can and must regain momentum in our collective efforts to stem new HIV infections, avert AIDS-related deaths, and improve the quality of life for Ukrainian communities affected by HIV.
The International Association of Providers of AIDS Care (IAPAC) represents more than 30,000 clinicians and allied healthcare professionals worldwide and serves as the Secretariat for the Fast-Track Cities Institute (FTCI). The FTCI offers technical support to a growing network of currently 380-plus cities and municipalities striving to end their urban HIV, tuberculosis, and viral hepatitis epidemics by 2030.