Global Leaders Underscore Pandemic Preparedness at Virtual Fast-Track Cities 2020 Conference
Dr. Anthony Fauci, Director of the US National Institute of Allergy and Infectious Diseases (NIAID), opened the Virtual Fast-Track Cities 2020 conference on September 9, 2020, on a cautious note, reminding the more than 1,500 online delegates that scientific progress against COVID-19 must rest on a solid foundation of evidence. Dr. Fauci emphasized that, although people living with HIV who are on effective treatment are not at increased risk of severe COVID-19 complications, people who have underlying co-morbidities are at an elevated risk. He expressed hope that a safe and effective vaccine would be approved soon.
"We would hope that by the time we get to the end of this calendar year that we would have a vaccine that is both safe and effective," said Dr. Fauci, who noted that millions of vaccine doses are already being prepared once a candidate receives authorization. In response to a follow-up question about the intersection of politics and public health policy, he remarked, "you have to be able to function in the context of good public health practices, at the same time that it seems that everything is politicized."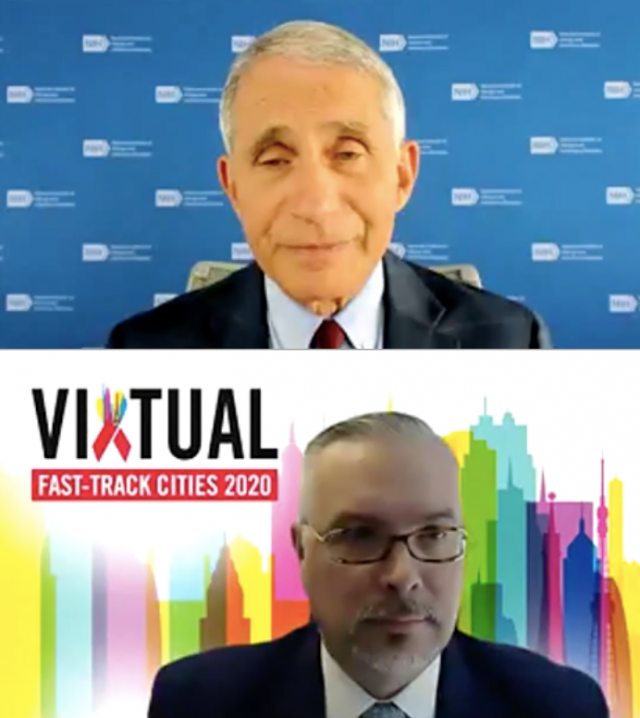 Dr. Fauci's remarks followed a High-Level Panel, led by Lisbon Mayor Fernando Medina, to discuss the challenges of confronting transnational public health crises in urban settings with Atlanta Mayor Keisha Lance Bottoms; Mayor Josefina Belmonte, Quezon City, Philippines; Mayor Mxolisi Kaunda, eThekwini, South Africa; and Mayor Geoff Makhubo, Johannesburg, South Africa.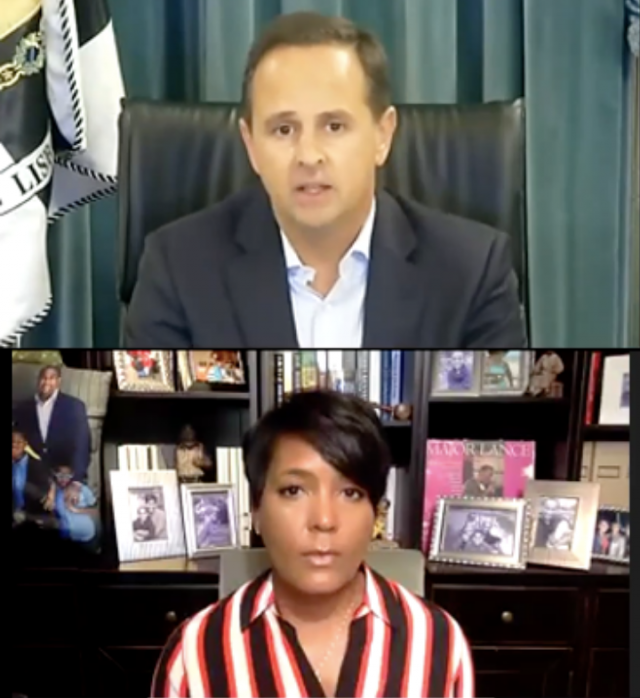 The Virtual Fast-Track Cities 2020 conference is the second annual gathering of more than 300 cities and municipalities around the world that are committed to ending their HIV, tuberculosis (TB), and viral hepatitis epidemics by 2030. Progress towards this commitment has been interrupted by the emergence of the COVID-19 pandemic, which has caused disruptions in HIV and other health services worldwide.
"IAPAC is proud of the healthcare workers who are putting themselves on the line to save lives during the COVID-19 pandemic, as well as the scientists and public health experts working to develop and prepare for the distribution of vaccines and treatments using time-tested trial and approval processes," said Dr. José M. Zuniga, President/CEO of IAPAC, which is co-convening the Virtual Fast-Track Cities 2020 conference with the Joint United Nations Programme on HIV/AIDS (UNAIDS) and the Fast-Track Cities Institute.
Echoing an assertion he made in a commentary published in the journal AIDS Reviews, Dr. Zuniga indicated that the public health response to SARS-CoV-2 got a head-start by relying on the existing infrastructure that was built to end the HIV epidemic, but that leveraging that infrastructure served to disrupt a continuity of health services care for people living with HIV, TB, viral hepatitis, and other chronic diseases.
"In the midst of this global public health crisis, civic leaders at all levels of government are recognizing the urgent need to repair the cracks in our health infrastructure that have been laid bare by COVID-19 and to improve preparedness for future pandemics," Dr. Zuniga added. "We cannot end any epidemic until everyone has equal access to the prevention, testing, and treatment services that are essential elements of the human right to health."
The first day's program included four cross-cutting plenaries focused on confronting the COVID-19 "infodemic" as a public health threat; addressing health disparities contributing to uneven COVID-19 outcomes in communities of color; facilitating the continuity of HIV and other health responses (e.g., TB, viral hepatitis); and addressing the fragility that the COVID-19 pandemic has exposed in almost every health system worldwide.
The conference's final day (September 10, 2020) featured clinical case studies from 18 Fast-Track Cities from around the world to illustrate public health leadership in responding to COVID-19 in urban areas. These case studies (including Atlanta, Bangkok, Jakarta, Johannesburg, Kigali, Kyiv, Lisbon, London, Lusaka, Maputo City, Mexico City, Milan, Melbourne, Montréal, New York City, Paris, São Paulo, and Yaoundé) reported on the latest data trends and disruptions to health services, highlighted innovations to maintain continuity of care for people living with HIV and other chronic diseases, and offered emerging insights about pandemic preparedness.
International public health experts called for the development of a new "global health order" during a closing panel representing UNAIDS; the World Health Organization (WHO); the Global Fund to Fight AIDS, Tuberculosis and Malaria; the US President's Emergency Plan for AIDS Relief (PEPFAR); UNITE (a global network of national parliamentarians); and the International Treatment Preparedness Coalition (ITPC).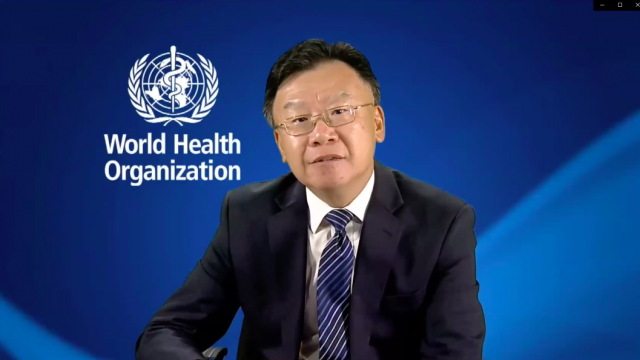 "It is clear that COVID-19 will be with us for many more months to come," said Dr. Ren Minghui, World Health Organization (WHO) Assistant Director-General for Universal Health Coverage and Communicable/Non-Communicable Diseases. He highlighted a recent WHO survey from 91 countries, whose data indicated a diversion of healthcare personnel from existing duties (such as providing HIV and other essential services) and decreases in outpatient volume were among the top causes of disruptions to continuity of care.
During his closing remarks, IAPAC President/CEO Dr. José M. Zuniga said that, "Countries cannot hijack infrastructures created over many years for mature pandemics such as HIV and tuberculosis (TB) without a steep cost paid by people living with HIV and other diseases against which we have been making steady progress. He added that countries also "cannot siphon off funding for pandemic preparedness even as we confront economic recessions. Surely, we can prioritize realizing the right to health for all and the right to cities and municipalities as places that guarantee a decent and full life for all their inhabitants."
Dr. Ricardo Baptista Leite, Founder and President of the UNITE network of parliamentarians, proposed that "the current [COVID-19] pandemic presents an extraordinary opportunity to reorganize the global health order." He spoke of the need for a "NATO for health" focused on the operational aspects of multilateral public health policy in lieu of the more diplomatic and technical focus of global institutions such as the WHO.
The Virtual Fast-Track Cities 2020 conference was convened by IAPAC in partnership with UNAIDS and the Fast-Track Cities Institute, and with sponsorship support from Gilead Sciences and ViiV Healthcare.
Highlights from Fast-Track Cities Case Studies
---
Public health experts and civic leaders from Atlanta, Bangkok, Jakarta, Johannesburg, Kigali, Kyiv, Lisbon, London, Lusaka, Maputo City, Mexico City, Milan, Melbourne, Montréal, New York City, Paris, São Paulo, and Yaoundé described how local communities have responded and adapted to the impact of COVID-19, especially with respect to people living with HIV, tuberculosis, and HCV.
Representatives from European cities said that they were generally able to harness innovations such as telemedicine to maintain health services, particularly for marginalized populations such as migrants, homeless people, and people who use drugs. Olena Lukashevych from the Kyiv City Public Health Centre in the Ukraine stressed that supply chain disruptions persist for the provision of personal protective equipment, medicines, and testing capacity.
Simon Ruth of Thorne Harbour Health in Melbourne, Australia, said that social media messaging has been one of the primary forms of communication during the severe lockdowns that have been seen recently, particularly in the state of Victoria where he operates. He noted that it is currently unclear to what extent reported declines in new infections of HBV (22%), HCV (22%), syphilis (5%), HIV (10%), and gonorrhea (20%) represent reduced use of testing services or actual declines in sexual activity.
Suilanji Sivile from the Rwandan Ministry of Health testified that although his country has so far avoided any "catastrophic" incidents, such as running out of supplies, the country has nevertheless been hit hard by the COVID-19 pandemic. He added that some people living with HIV in Kigali and across Rwanda have had to switch to alternative antiretroviral medications when their normal medicine is in short supply due to stock-outs.
Maputo City Council representative Bélia Nyambir Xirinda emphasized the role of creating safe spaces for people infected with and recovered from COVID-19, adding that although the capital city accounts for 25% of the confirmed cases in Mozambique, only 28 deaths have been attributed to COVID-19 across the country at large.
"The [COVID-19] epidemic has moved from more urban to more rural communities," said Dr. Carlos del Rio of Emery University in Atlanta, GA, USA, who reported that although the State of Georgia has made tremendous progress, dropping to a current rate of 16 confirmed COVID-19 cases per 100,000 residents, much work remains to end the public emergency locally and abroad. "The impact on HIV has not been as significant as we thought it would be," said del Rio, however, he warned that underlying comorbidities such as diabetes and hypertension remain a cause for concern regardless of a person's HIV status.
"A lot of things that seemed impossible six months ago have now become possible," said Dr. Anisha Gandhi of the New York City Department of Health and Mental Hygiene, who also said she believes the COVID-19 pandemic presents an opportunity for systemic change.