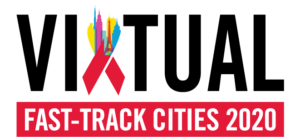 OPENING REMARKS BY DR. JOSÉ M. ZUNIGA, IAPAC PRESIDENT/CEO
SEPTEMBER 9, 2020 (VIRTUAL)
---
Welcome to the Virtual Fast-Track Cities 2020 conference, which the International Association of Providers of AIDS Care (IAPAC) is honored to co-host with the Joint United Nations Programme on HIV/AIDS (UNAIDS) and the Fast-Track Cities Institute, through corporate sponsorship from Gilead Sciences and ViiV Healthcare.
I wish we were meeting in-person in Lisbon today as originally planned, but COVID-19 has altered our world in so many ways and made virtual convening the "new normal" – at least for now. But we will try to meet again March 22-25, 2021, in Lisbon (COVID-19-permitting).
Before delivering my opening remarks, I ask that we please observe a moment of silence to honor the 897,833 people we have lost to COVID-19 since the advent of this novel coronavirus, SARS-CoV-2.
Thank you very much. We also, of course, keep in our thoughts all who have been infected by and recovered from COVID-19, those people who have experienced collateral damage as a result of the economic downturn that COVID-19 precipitated, and, of course, all first-responders and health workers for your bravery.
WHAT IS 'CITY MULTILATERALISM'?
---
I wish to frame this year's Fast-Track Cities conference based on the concept of "city multilateralism," which describes diplomacy and action at the local level to coordinate with global peers on transnational concerns.
Numerous urban initiatives populate the sustainable development firmament – all striving to make real the aspirations reflected in the Sustainable Development Goals (SDGs) and the New Urban Agenda. These efforts serve also to link local governments with national and global efforts, which is key not only for the SDGs but also – as we see today – for pandemic preparedness.
To be clear, city multilateralism is an addition to national health diplomacy – not a replacement. It requires wide-scale decentralization of the traditional health diplomacy model with nation-states as central actors, and an actioning of city multilateralism as a national-urban partnership. However, city multilateralism is also a way of mitigating harm done when nation-states fail to lead. As we will discuss, in many instances, cities and municipalities are "leading" in the face of paralysis at higher levels of government. This has become all too clear in light of the COVID-19 pandemic.
FAST-TRACK CITIES AND CITY MULTILATERALISM
---
The Fast-Track Cities initiative is an example of city multilateralism at work, and one that shows us how national leaders can support the innovative public health work that cities and municipalities are advancing. We will hear from 18 Fast-Track Cities tomorrow regarding their public health leadership in responding to COVID-19 in urban areas. They will review data trends, disruptions to HIV and health services, innovations to maintain continuity of care for people living with HIV and other chronic diseases, and emerging insights about pandemic preparedness.
As you all know, Fast-Track Cities was launched on World AIDS Day in 2014 in Paris, with the signing of the Paris Declaration on Fast-Track Cities Ending the HIV Epidemic. From an original 26 signatories, today more than 300 cities and municipalities from every region of the world have joined the network. And, countries ranging from Brazil to South Africa to the United States now have a critical mass of Fast-Track Cities that are actioning the power of city multilateralism and local public health leadership to achieve positive HIV and other health outcomes at urban and national levels, monitored through the transparent use of programmatic target data.
WHY PROMOTE CITY MULTILATERALISM?
---
So, why, you might ask, am I advocating city multilateralism? Because of the speed and scope at which urban growth is occurring around the world… According to the United Nations Human Settlements Programme (UN-Habitat), 30 years from today, roughly two in three individuals will live in urban centers.
Overall, urbanization trends present both risk and opportunity:
In terms of risk, urban growth over the past 20 years has been marked by growing inequality, with three out of four urban areas having grown more unequal, which is troubling considering the urban growth that lies ahead. Additionally, the human cost of endemic infectious diseases and global pandemics reflects an existential threat these hazards pose to communities worldwide, with the greatest devastation wrought in urban centers. There is also a serious risk that public health crises – such as existing epidemics and new pandemics – will become even harder to contain.
With respect to HIV, in many countries a single city accounts for 40% or more of all diagnoses. In Europe, 60% of people living with HIV reside in 20 cities. And, in Sub-Saharan Africa, most countries already have higher HIV prevalence in urban areas vs rural areas, with many having double the prevalence or higher. This trend will only increase with urban growth.
And, with respect to COVID-19, UN-Habitat estimates that, as of June 2020, 90% of the world's cases were in urban areas. They also found that within cities and municipalities, poorer neighborhoods and overcrowded areas are the hardest hit.
Yet, with these risks also come opportunities, because cities and municipalities are playing an ever more important role in public health. Already, today, city and municipal leaders are actively seeking greater representation at the "global table," recognizing that healthy, resilient societies require realizing a 'right to the city' that asserts a city as a place that strives to guarantee a decent and full life for all of its inhabitants.
HIV 90-90-90 TARGETS: METRICS OF SUCCESS
---
Switching back to HIV, I would like to spend some time bragging about three Fast-Track Cities as examples of what city multilateralism can achieve in collaboration with national governments:
HIV 90-90-90 TARGETS (BANGKOK, THAILAND): I start with the Bangkok Metropolitan Administration and the national government of Thailand, which have worked together to make significant progress against the UNAIDS 90-90-90 targets. From 2016 to 2018, the percentage of people in Bangkok who knew their HIV status rose from 79% to 91%; the percentage of people living with HIV on antiretroviral therapy (ART) rose from 57% to 70%; and the percentage of people achieving viral suppression remained mostly stable even as the number of those on ART grew. This progress – double-digit percentage point improvements in relation to the first and second 90 targets – would not have been possible, for example, without increased domestic funding for key population-led organizations, or an approved budget to provide ART to undocumented migrants and non-Thai residents.
HIV 90-90-90 TARGETS (KYIV, UKRAINE): Kyiv, in contrast, is an example of a city that faced some initial challenges in its partnership with the national government of Ukraine, but nonetheless found a way to leverage that partnership to make significant progress against the 90-90-90 targets. Diagnoses are up significantly between 2015 and 2019, as are rates of viral suppression, which in 2018 exceeded their 90% goal. And the most progress of all has been made in ensuring that people who are diagnosed with HIV are on ART. In just four years, that percentage has increased from less than 50% to quickly approaching the 90% target. Here, too, the double-digit percentage point improvements across all three 90 targets would not be possible without some concrete partnerships with the national government, including through a National HIV Testing Strategy for 2019-2030, or a 130% increase in the budget allocated for antiretroviral (ARV) drug provision.
HIV 90-90-90 TARGETS (NAIROBI CITY COUNTY, KENYA): Finally, through a successful national-urban partnership, Nairobi City County and the national government of Kenya facilitated significant progress in relation to the third 90 target,

specifically with the percentage of people on ART who achieved viral suppression, which increased from 55% to 82% in just two years.
Key to this life-saving success, beyond significant investments made by the US President's Emergency Plan for AIDS Relief (PEPFAR) and the Global Fund to Fight AIDS, Tuberculosis, and Malaria, was an alignment between the National AIDS Strategy and the Nairobi County Accelerated HIV Response Plan. Of almost equal importance was the roll-out of an improved national electronic medical record (EMR) system for better data management, with granular data used as a metric of success to garner increased political support and financial resources at national and municipal levels.
WHAT HAS COVID-19 REVEALED?
---
Returning to COVID-19, it is important for us to ask ourselves what this pandemic has revealed.
First, COVID-19 has shown us the enormous human and financial costs of endemic infectious diseases. Beyond the direct impact on health and tragic loss of life, the United Nations Development Programme (UNDP) estimates that 40-60 million people around the world will be pushed into extreme poverty because of COVID-19; 1.6 billion informal workers will lose 60% of their income; and 265 million people in low- and middle-income countries are facing acute food insecurity this year.
Additionally, the World Bank predicts an unprecedented number of countries will face economic recessions this year. Only East Asia and the Pacific are projected to experience economic growth, but at only 0.5%. Economies elsewhere in the world will all contract, including a 2.7% decline in South Asia, a 2.8% dip in Sub-Saharan Africa, a 4.2% drop in the Middle East and North Africa, and a 7.2% decline in Latin America.
Second, COVID-19 has revealed a shocking lack of pandemic preparedness on a global level, which is due in part to the binding but unenforceable International Health Regulations (IHRs). Implementation of the IHRs is concerning. In 2019 (just last year), the average self-reported core capacity in relation to national health emergency frameworks ranged from a low of 40% in the African region and 58% in the Southeast Asian region, to a high of 75% in the Western Pacific region. Risk communication – one of the most important core areas for addressing the COVID-19 pandemic – is also one of the poorest self-reported areas, with a global 60% average score.
Moreover, a recent analysis looked at the Emergency Committees that the World Health Organization (WHO) assigned to address nine Public Health Emergencies of International Concern, including COVID-19. That analysis found that the Emergency Committees used the IHRs vaguely and inconsistently, and that guidelines were needed to ensure standardized interpretation. The WHO just this week is convening a review committee to evaluate how the IHRs have performed during the COVID-19 crisis and to discuss potential amendments. And, also just this week, a group of public health experts that I was honored to join addressed the UNITE Summit about a new Global Convention on Public Health Security in the 21st Century.
We are calling for, among other changes, to make the IHRs enforceable, and to broaden engagement beyond national governments to include city and municipal governments.
With increasing globalization over the past several decades, we have unfortunately not seen increased global strength on addressing public health crises. To the contrary, the COVID-19 pandemic seems to indicate that we have only "globalized" our vulnerability to endemic infectious diseases to an extreme degree.
LEVERAGING HIV PLATFORMS FOR COVID-19 RESPONSES
---
COVID-19 has also revealed fragility in HIV and other health responses, for example, with respect to tuberculosis (TB) and viral hepatitis (notably hepatitis C virus [HCV]). The infrastructure developed in response to more mature pandemics such as HIV and TB was leveraged to respond to COVID-19, as was the HIV workforce. An IAPAC survey taken from April-June 2020 found that 53% of clinician- respondents from 75 countries were treating patients with COVID-19. Survey respondents also reported disruptions in HIV services during the pandemic, with 46% reporting disruptions in laboratory monitoring of viral load, for example, and 45% reporting disruptions in trauma-informed mental healthcare.
While there have been many innovations to address these challenges – for example, the use of telemedicine and multi-month ART dispensing – these innovations are not altogether attenuating levels of concern shared among HIV response experts, including at UNAIDS and WHO. For example, in South Africa, 93% of respondents were "moderately" to "very" concerned about ART adherence, while 92% of provider respondents in the UK were equally concerned about mental healthcare access.
So, while it is impossible to quantify the degree to which leveraging this HIV infrastructure has reduced COVID-19 morbidity and mortality, what is clear is that this leveraging has had an impact on our short-, mid-, and potentially long-term ability to achieve and surpass HIV programmatic targets. This means we need to see sustained investment in local, national, and international HIV, TB, and other health responses, despite divided attention and strained budgets, to get back on the fast-track towards SDG 3.3. But we also need to see long-term efforts to address the underlying fragility that the COVID-19 pandemic has revealed in the HIV response, and to ensure a continuity of HIV and other health services in the months and years to come.
COVID-19 AND CITY MULTILATERALISM
---
During the COVID-19 pandemic, we have witnessed examples of city multilateralism all over the world, including in two cities and municipalities that I hold up as examples.
In Atlanta, Mayor Keisha Lance Bottoms has from the start of the COVID-19 pandemic coordinated with the state government, but also with the US Centers for Disease Control and Prevention (CDC). The Mayor followed guidelines set by the CDC as well as WHO in closing schools and businesses, as well as requiring face masks in certain public spaces. And she has persisted despite confusing and highly politicized guidance coming out of the US federal government, but also serious pushback from her State's governor.
While the Mayor was listening to public health experts, the Governor was "tweeting" that Atlanta residents could ignore the Mayor's lockdown order. He sued to stop measures including a local face mask mandate, saying that Mayor Bottoms could not implement public health measures that were any more restrictive than his own.
Similarly, São Paulo began to see cases early on in the COVID-19 pandemic, particularly in the favelas. City and state leaders took action, working with the medical community to prepare hospitals for the coming wave of COVID-19 cases. Municipal health authorities cancelled elective surgeries, expanded intensive care units (ICUs), and acquired personal protective equipment (PPE) supplies, even as prices skyrocketed with no federal support.
São Paulo Mayor Bruno Covas and the Mayors of other large municipalities such as Rio de Janeiro were mocked by Brazil's President, who encouraged residents of these municipalities to defy local lockdown and face mask orders. While state Governors did a lot more than Brazil's President, much was still left to the Mayors to combat his local COVID-19 epidemic. And, much of the responsibility was left to Mayors to decide when and how to begin reopening their municipalities.
DECENTRALIZING TRADITIONAL HEALTH DIPLOMACY
---
As I already noted, city multilateralism does not mean replacing the traditional health diplomacy in which nation-states are central actors. Rather, we are calling for the vast decentralization that has already occurred organically, because city multilateralism is already happening. Two examples include the reliance on cities and municipalities that has occurred during the COVID-19 pandemic; and the work that Fast-Track Cities are advancing to end the global HIV epidemic by ending urban HIV epidemics.
Additionally, though, we must recognize that creating sustainable cities and municipalities – or SDG 11 – is interwoven with virtually every other SDG, including SDG 3. Because of this interconnectivity, we cannot expect to make progress across the SDGs without seeing significant support for cities and municipalities from national and international bodies. And, we cannot expect cities and municipalities to act in isolation.
CITY MULTILATERALISM AND NATIONAL PARTNERSHIPS
---
What role can national governments play in supporting decentralization? Specifically, with regards to COVID-19 and HIV, there are several needs:
The first is that national governments stop serving as obstacles to progress at city and municipal levels, as we have seen in the examples already discussed from the United States and Brazil. This has also been true with respect to HIV. For example, we can contrast the experiences of Fast-Track Cities such as Bangkok, Kyiv, and Nairobi County, all which have received support from their national governments, with other cities and municipalities that have encountered resistance.
Beyond getting out of the way, there are other steps that national governments can take in supporting cities and municipalities within the context of the COVID-19 pandemic to ensure that HIV and other health services are not compromised. We need cities and municipalities to implement emergency and long-term public health measures. COVID-19 has revealed a lack of pandemic preparedness at all levels, but also fragility in HIV and health responses, notably among key populations vis-à-vis inequities. And, cities, municipalities, and national governments must also work together to innovate around strategies to minimize in-person contact for health services so that the continuum of HIV prevention and care is not interrupted.
Finally, addressing social determinants of health is a critical way in which cities and municipalities are meeting the immediate needs of people who are living with HIV or who have been impacted by COVID-19. Take, for example, housing. Adequate, stable housing is central to all of us, but notably to people living with HIV. We now also see it as essential to curbing the spread of COVID-19. And yet, the COVID-19 pandemic has made it harder to maintain stable housing. In my opinion, cities and municipalities are the best possible actors to ensure that local populations have access to safe and affordable housing. Leaders at the city and municipal levels must be thinking about how to secure stable housing for people living with HIV, throughout and beyond the current crisis.
Thinking past the current COVID-19 pandemic, we also need partnerships for long-term pandemic preparedness. How much risk communication, for example, has been delegated or simply taken up by cities and municipalities during the COVID-19 pandemic? What about with respect to response, preparedness, and human resources? If challenges with the IHRs include interpretation and enforceability, then improving the viability of the IHRs will require national-urban partnerships for successful management of public health emergencies.
CONCLUSIONS AND CALL TO ACTION
---
In conclusion, in the midst of the public health crisis that COVID-19 represents, we see clearly the necessity for cities and municipalities to be on the forefront of advancing public health and protecting basic human rights. It is no longer acceptable to relegate urban leaders to the sidelines, as a mere afterthought in health diplomacy, and then expect them to play a central role in preventing and containing epidemics or pandemics. This has been true for decades with epidemics such as HIV and TB. Today, it has come into even sharper focus with COVID-19.
We need city multilateralism so that fast-growing urban zones – poised to become more populous in the decades to come – can serve as engines for change and innovation to end the HIV, TB, and viral hepatitis epidemics, as well as tackle future emerging diseases. However, facilitating this aim will require that national leaders fulfill their critical role in seeing city multilateralism as an opportunity rather than competition to be hindered.