Fast-Track Cities Launches "Decade of Action" Against HIV, TB, and HCV, at 10th World Urban Forum​
February 11, 2020 ​
A high-level IAPAC delegation represented the Fast-Track Cities network at the 10th World Urban Forum in Abu Dhabi, United Arab Emirates, which was convened by the United Nations Programme on Human Settlements (UN-Habitat). IAPAC President/CEO Dr. José M. Zuniga spoke before a panel discussion on February 11, 2020, about the importance of leveraging reliable data in responding to HIV and other urban epidemics.
​
Dr. Zuniga touted the power of data to guide Fast-Track Cities on a trajectory toward ending their urban HIV epidemics by chronicling the experiences of Fast-Track Cities such as Bangkok, Kyiv, and Nairobi. Despite the unique set of factors facing communities in each of these urban areas, Dr. Zuniga noted how the development and dissemination of reliable data has helped clinicians, policymakers, and advocates for people living with HIV to determine how to optimize the allocation of resources and tailor public interventions that reflect local needs. He added that we must continue to address stigma as a public health threat and educate the public about the science of HIV treatment and prevention.
This year's 10th World Urban Forum coincides with the beginning of a "Decade of Action" to achieve critical targets contained within the Sustainable Development Goals (SDGs) by 2030. The Fast-Track Cities initiative recently marked five years since its launch on World AIDS Day 2014. ​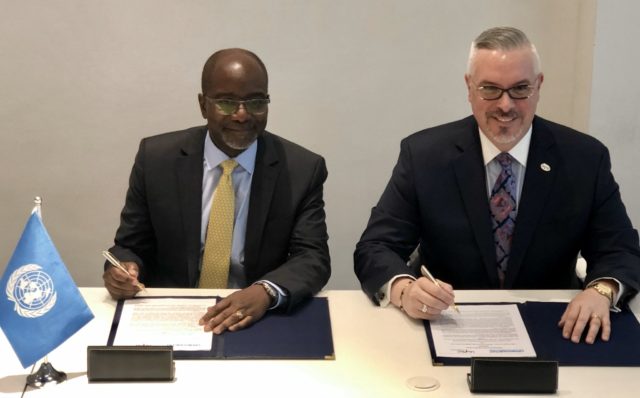 IAPAC and UN-Habitat announced a new partnership at the forum, with Dr. Zuniga and UN-Habitat Deputy Executive Director, Mr. Victor Kisob, signing a Memorandum of Understanding to formalize the new agreement. The two organizations will collaborate to enhance the efforts of over 300 Fast-Track Cities to end local epidemics of HIV, tuberculosis (TB), and viral hepatitis within the context of Sustainable Development Goal 11 (SDG 11), which seeks to improve resiliency and sustainability in urban communities.​
"Addressing the need for people to live in cities that are inclusive, safe, resilient, and sustainable is essential to ending the HIV, TB, and viral epidemics." said Dr. Zuniga. "Through this partnership with UN-Habitat we embark on a 'Decade of Action' to make the Sustainable Development Goals a reality within the context of the Paris Declaration on Fast-Track Cities and the New Urban Agenda."​
"Thriving cities must be healthy cities and this collaboration with IAPAC brings on board experts from the two agencies to address a core issue of getting cities on that last mile towards ending their HIV epidemics. Cities must have the knowledge, technology, data, and funding that can ensure that no one and no community is left behind," said Mr. Kisob.
IAPAC showcased the new documentary, "Fast-Track Cities: Making Progress, Saving Lives" at the forum's Urban Cinema. The film explores the stories of people from six Fast-Track Cities across five continents. The full film is available on YouTube:
​